SIAFL Grand Final set to wrap up testing season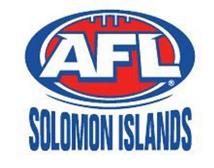 The 2014 SIAFL (Solomon Islands AFL) Grand Final takes place tomorrow afternoon in Honiara. With a season interrupted by a deadly and damaging storm early this year – the season culminates with the White River Demons taking on the Central Coast Eagles.
The match is scheduled for tomorrow (Thursday) – June 26th – at the King George VI field in Honiara. As per the poster below – SIAFL staff will be in attendance from 3pm onwards with the opening bounce at 4pm.
Season 2014 has shown resilience amongst the SIAFL community. The season kicked off back on March 27 The first week of April witnessed the deadly tropical storm that was to develop into Cyclone Ita and track towards the Queensland coast. The SIAFL season was interrupted but not the spirit – as reported here players from the White River Demons in particular played their part in assisting recovery – helping in the clean up and helping get the White River medical clinic back in operation as quickly as possible after the storms to help prevent the spread of disease.
Missing from the local contests have been two young stars in Francis Ramo and Peter Nuku who are playing this season with Coolaroo in Queensland's AFL Darling Downs competition.
While it is sad that the SIAFL won't be represented at this years 5th AFL International Cup - there has still been plenty going on. All at WFN wish SIAFL a great day tomorrow. For anyone nearby be sure to get down and show your support.