Footy resumes in Solomons after the Storm while clean up continues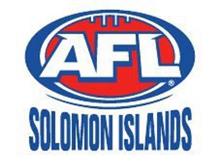 The Solomon Islands were recently and tragically battered by the tropical depression storm that formed into cyclone Ita – with widespread damage and numerous fatalities in the capital Honiara. The week before the SIAFL season had kicked off but not surprisingly round 2 was unable to proceed. The resilience of the locals highlighted though by the resumption last weekend with the playing of the previous weeks postponed matches.
Perhaps more importantly - the community of the SIAFL has been recognised in the Solomon Star newspaper for their efforts - here at White River in helping get the White River health clinic cleaned up and back into operation - crucial to help combat the spread of disease in the coming weeks.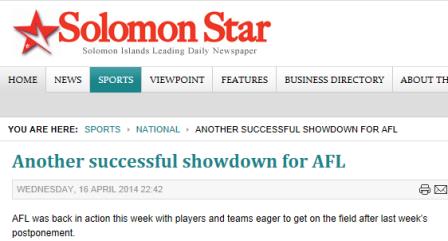 As reported - many of the players live in the immediate area and many still being in the evacuation centre at White River High. The White River Demons and their Aussie friends including the Australian High Commissioner cleared almost 200 bags of mud.
Round 1 kicked off the 2014 SIAFL season on Thursday, March 27, with old rivals the White River Demons taking on the KG Sharks.
| | | | |
| --- | --- | --- | --- |
| White River Demons | 13 | 8 | 86 |
| KG Sharks | 8 | 2 | 50 |
Opening bounce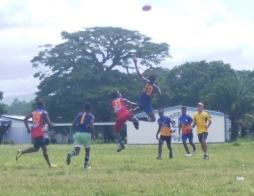 Move forward to Saturday and Game 2 involved the new team the Real Lions taking on the Central Eagles. Many of the Lions being former Eagles so no excuses for not knowing the game style of the opposition. Watson Ho and Anthony Joel showing leadership helping to ensure the Lions turned up in good numbers as a highly organised outfit.
| | | | |
| --- | --- | --- | --- |
| Central Eagles | 20 | 13 | 133 |
| Real Lions | 9 | 3 | 57 |
The scheduled 3rd match was unable to proceed with China Town Magpies unable to field a team against the KG Sharks who took the walk-over. As it was though a scratch match of two 20 minute halves was organised and allowed some new comers to have a game and afterwards enjoy the launch of the new season with a drink and a hotdog.
Round 2 saw the Thursday night opener between the Sharks and the Real Lions chasing their first win. Unfortunately in the 12 aside contest the Sharks began the match with only 9 and not until the last break were able to add the 3 for a full 12 on the field. For the victors Junior Joel was a one man show up forward and finished with 19 goals. Real Lions running out easy 155 to 27 victors over the undermanned KG Sharks.
Game 2 on Saturday saw the Central Eagles up against the China Town side. Having forfeited in round 1 the Magpies proved to be a tad rusty by comparison to the Eagles who had had a decent hit out in Round 1. An early ascendancy was maintained – other than the second quarter - with the Eagles running out 16 pt winners. Central Eagles 48 def China Town 32 China Town players and umpire David Holo.