CrossCoders' Irish Ailish to have a craic with the Crows
Thursday, September 27 2018 @ 06:46 pm ACST
Contributed by: Troy Thompson
Views: 1,472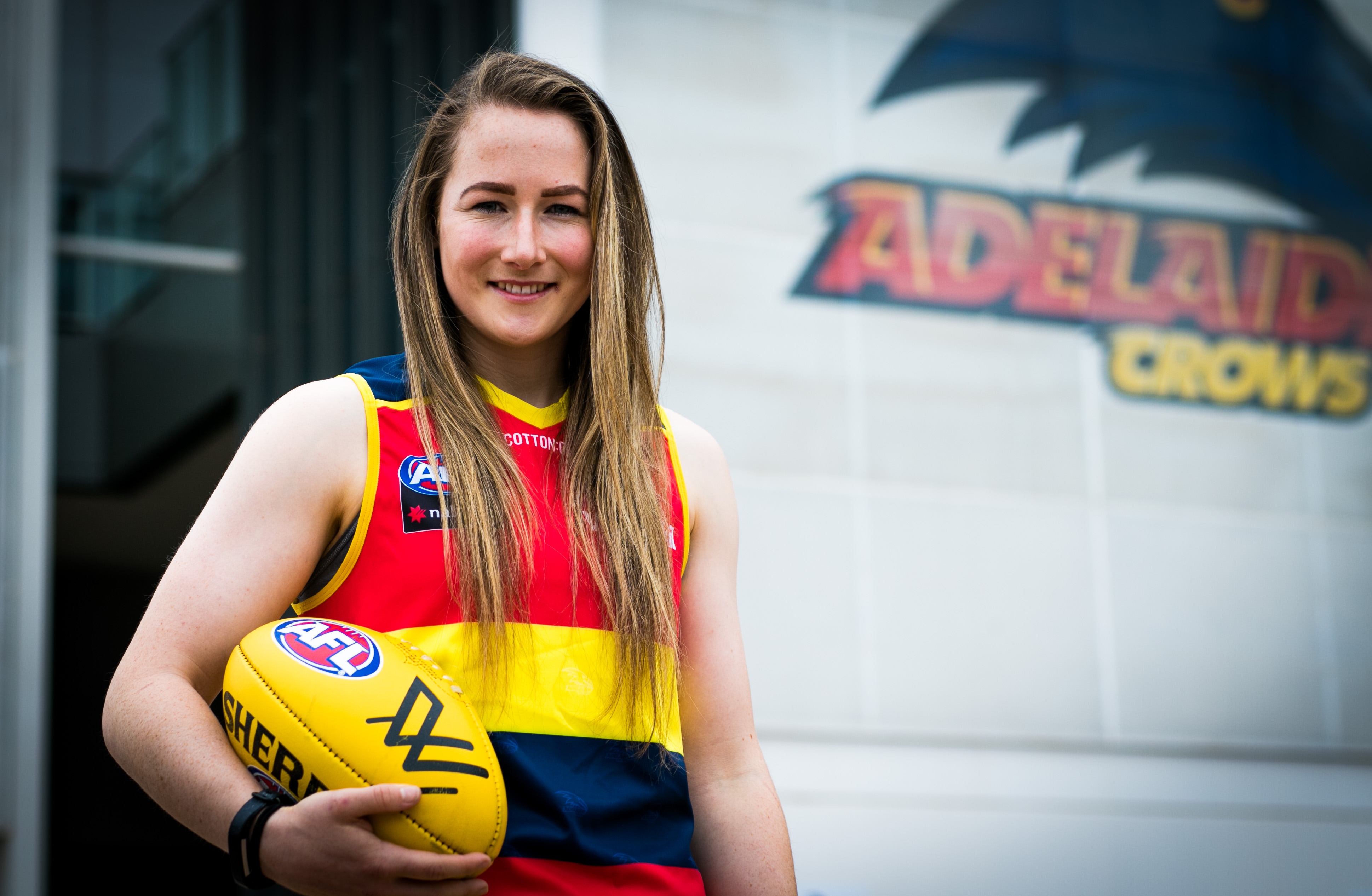 In a pleasing development from yesterday's CrossCoders story, Adelaide has secured its first international women's player with Irish recruit Ailish Considine signing on as a rookie for the 2019 season.
Considine is a talented Gaelic football player with Clare and Kilmihil, in the country's mid-west region, and is also part of AFL Ireland Women's West Clare Waves team.
The 26-year-old is also skilled at Camogie, the female version of the Irish sport of hurling.
She is one of 18 athletes from Ireland, France, the United States, Great Britain, Fiji and Canada who this week travelled to Australia with the CrossCoders program to take part in a national camp to test their skills in front of club officials, in the hopes of being picked to play in the League's third season.
Crows General Manager Football Administration Phil Harper said the Club was thrilled to welcome its first international AFLW player.
"Ailish is a talented athlete who has a tremendous kick on both sides of her body," Harper said.
"She brings a wealth of experience and positive attributes and we feel that she's a great fit for our squad.
"Having watched her play this week it is clear she already has a good understanding of the basics of the game and we're confident she'll successfully transition to AFLW."
Considine said it was an unbelievable opportunity.
"I actually can't even put it into words how I'm feeling," she said.
"The week with CrossCoders has been brilliant. I was not expecting this at all. I thought I was coming out here to Melbourne to have a kick around and see Australia a little bit.
"I did not expect to be going home with a contract.
"I don't know a whole lot about Australia or Adelaide, to be honest! But I'm sure I'll get to know an awful lot about it in the next few months. I cannot wait to get started with the Crows."
Under AFLW competition rules, clubs must sign two rookies who have not played Australian Rules football competitively in the last three years or been involved in a high performance AFLW program.
The AFLW rookie signing period closes on Friday, September 28.
AFLW clubs can sign a total of 30 players for the 2019 season, with lists to be finalised following the draft on October 23.
The Crows have signed 23 players and currently have picks 8, 30, 37, 41, 48 and 53 in the draft.
Crows 2019 AFLW list (23):
Sarah Allan

Ailish Considine

Dayna Cox

Courtney Cramey

Angela Foley

Renee Forth

Anne Hatchard

Jasmyn Hewett

Eloise Jones

Sophie Li

Rheanne Lugg

Ebony Marinoff

Jenna McCormick

Rhiannon Metcalfe

Justine Mules

Sarah Perkins

Erin Phillips

Marijana Rajcic

Chelsea Randall

Sally Riley

Jess Sedunary

Stevie-Lee Thompson

Deni Varnhagen