CrossCoders bring women's international talent to AFLW
Wednesday, September 26 2018 @ 11:00 pm ACST
Contributed by: Troy Thompson
Views: 2,535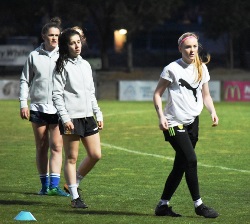 The past two evenings I got to see a great initiative that will hopefully change the way the AFL and their recruiters think about women playing Australian football and other sports overseas when it comes to filling out their lists. They have decided that this opportunity cannot be ignored and have delivered these athletes from across the world on a plate for AFLW list consideration.
It is a very professionally run setup both in terms of personnel and facilities and looks to be just the first iteration of what hopefully will be a successful program for years to come.
When the AFLW came along in 2016, it was disappointing that more attention was not given to international athletes, both those already playing Australian football overseas and those in other sports. Kendra Heil (Canada) and Laura Duryea (Ireland) both were listed, but they were both taken after playing with clubs in Melbourne.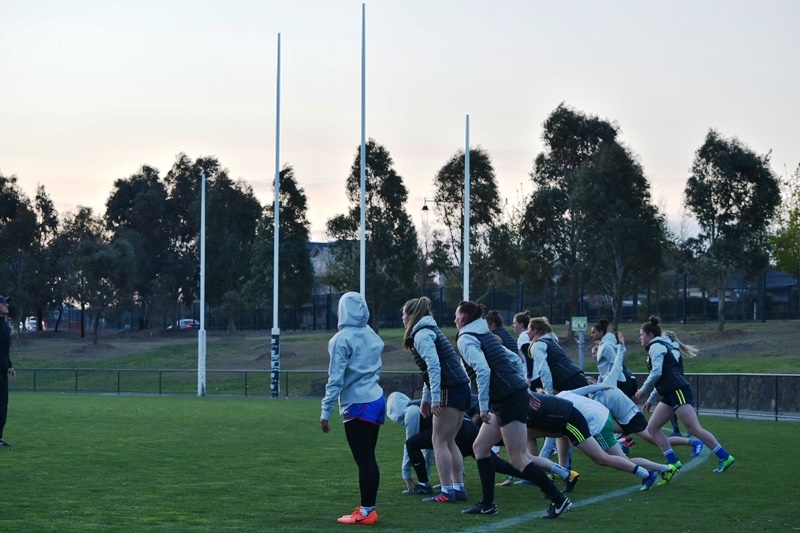 International combines would have been the way to go. But it seemed neither the will or the funding were available to make sure the competition had access to all athletes to be the best it could be. At the very least a women's combine could have been run alongside the AFL's combines in Ireland and the USA.
Again in 2017 and 2018 this seemed to be an obvious path to go down in search of talent, both in the existing international competitions and with Irish talent that could easily transition to the Australian game. The GWS Giants made the first move and brought Cora Staunton into the game with immediate success in the 2018 season. And earlier this year Irish LGFA star Sarah Rowe came to Melbourne to choose which AFLW club she would play for, ultimately choosing Collingwood.
CrossCoders came together with a dream to give more opportunities to women in sport globally. And if the AFL wouldn't head outside Australia's shores to find talent, they would bring it to Australia.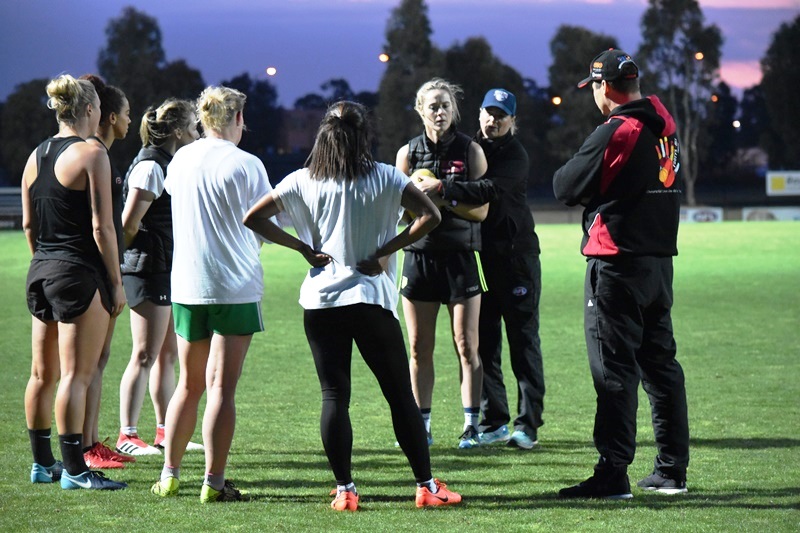 They partnered with the Western Bulldogs to offer a professional contract with an AFLW side in 2019 to the best candidate. From well over 100 initial online applications, they selected 18 to come to Melbourne, Australia to audition for that spot.
Key players in the program are Jason Hill (GB Swans coach), Michael Currane (Irish Banshees coach), Lauren Spark (Western Bulldogs AFLW player and GB Swans Assistant coach) and the Western Bulldogs AFLW coach Paul Groves.
Most of the 18 women auditioning for an AFL spot arrived in Melbourne on the weekend. They attended the VFLW grand final between Hawthorn and Geelong to get a taste of what high level women's footy looked like up close. For most the first match they had seen live and on a full size ground.
On Monday morning they were put through a full combine testing session at Victoria University. I ventured out view their evening session of ball skills work in Craigieburn, where they used the top notch Calder Cannons facilities.
They were put through a solid two hour session, and for women who had never really kicked and handballed the Sherrin before it was a pretty impressive session. CrossCoders had arranged a great group of coaches to run the session in small groups. A number of AFLW club scouts were on hand and also assisted in some sessions, while other watched and took notes on the sidelines.
For a little more international flavour I noticed Michael Gallus, coach of the Pakistan women's team at IC17 and Lisa 'Kiwi' Roper on hand taking drills and giving instruction to the women on the field.
Tuesday morning was recovery, before an even more impressive evening. CrossCoders had invited down a group of women from various VFL Women's teams to take part in a one hour joint skills session followed by a match against the international rookies. This all took place at Trevor Barker Oval, home to VFL club Sandringham.
The skills match was four 15-minute quarters and the rookies were impressive with the oval ball but also in the speed and manner in which they played. By all rights Australian women should have easily outpointed these foreign women most of whom are all learning to use the oval ball, but also learning to play the game (most for the first time ever) and have never played as a team before.
But the final score was something like 6 goals 8 to 4 behinds in favour of the CrossCoders. Sure there were plenty of basic skill errors and mongrel punts, but their attack and movement more than made up for it. And while some errors were made, most of the girls had come a fair way in a couple of days of learning to kick and handball. I have no doubt a few phone calls were made back to the clubs of recruiters after that match to discuss what room they might have to sign one or more of these women.
Originally the program had the ultimate goal of a player been selected for a rookie list position at the Western Bulldogs. But as I understand it, just before the program officially got underway with the players coming to Australia, the AFL decided the program needed to be open to all the AFL clubs so as not to give an unfair advantage to the Western Bulldogs.
It does seem likely that more than one of this first CrossCoders group will be offered a rookie position with and AFLW club. This is impressive given that the deadline is tomorrow night to nominate rookie positions as most of the clubs would have almost certainly decided who they would nominate before this week.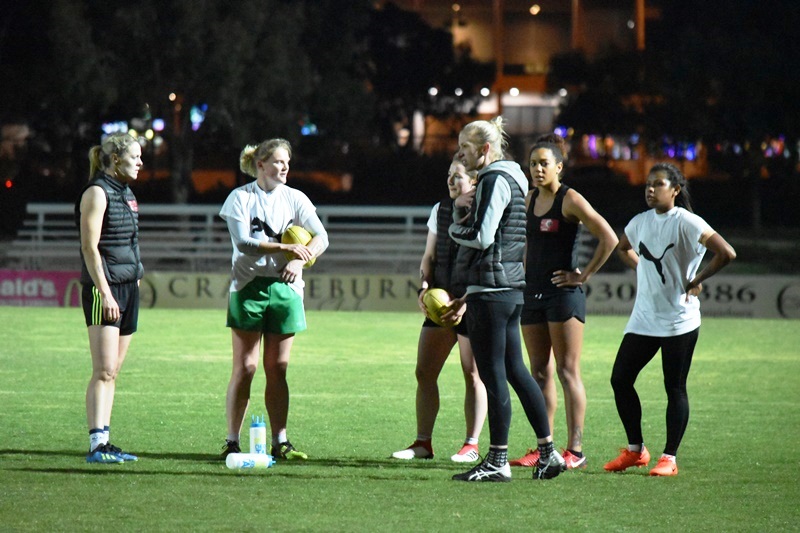 So tomorrow (Thursday) the CrossCoders women will go into the final part of the program which is interviews with the clubs. Any offers of contracts are expected to be made late tomorrow before the deadline. So keep an eye out for any announcements.
The 18 players taking part in the series are list below their country of origin.
Canada
Nicola Kirwan, 30 years old, Etobicoke Kangaroos (Australian Football) and Northern Lights (national Australian Football team)
Fiji
Matelita Tuilevuka, 24, AFL Fiji
France
Coline Duquet, 25, Darebin Falcons, Paris Cockerelles and European Crusaders
Ireland:
Muireann Atkinson, 21, O'Neill Shamrocks Gaelic Football
Ailish Considine, 26, Clare Gaelic Football and AFL Ireland West Clare Waves
Mairead Coyne, 29, Ireland's national rugby union and handball teams
Aisling Curley, 24, Moorefield GAA club and Kildare Gaelic Football Association
Eimear Gallagher, 18, Red Hughs Gaelic Football
Amanda Maginn, 26, St Kilda Sharks and the Irish Banshees (national Australian Football team)
Aisling McCarthy, 22, Tipperary Gaelic Football
Yvonne McMonagle, 31, Donegal Gaelic Football
Mary Ryan, 30, Tipperary camogie (hurling)
Aishling Sheridan, 22, Cavan Gaelic Football
Fiadhna Tangney, 17, Kerry Gaelic Football
UK
Frankie Hocking (England), 29, Newton Breakaways (Sydney) and Great Britain Swans (national Australian Football team)
Nia Jones (Wales), 25, Welsh national netball and soccer teams
USA
Amelia Kahr, 26, Seattle Grizzlies and gridiron
April Lewis, 28, Seattle Grizzlies and athletics