Aliir And Daw Make Impressive Statement
Monday, July 16 2018 @ 10:01 pm ACST
Contributed by: Wesley Hull
Views: 3,664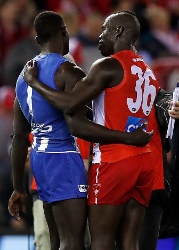 It wasn't the first time that Aliir Aliir and Majak Daw had played against each other. Early in their careers they occasionally lined up on each other, including their first time at the highest AFL level in August 2016 (see
A Glimpse Into An African Future
) down in Hobart. But almost two years on, both have moved further into their careers and after yesterday' thriller at Etihad Stadium, both have gathered even more spotlight.
Aliir Aliir and Majak Daw were lined up on each other for three quarters at Etihad yesterday. Both have had to re-establish themselves at the highest level. Aliir from injury and indifferent form across 2017 and early 2018, whilst Daw had reinvented himself for much of this season as a Kangaroo defender.
However, on the weekend, they were back in their former roles – Aliir the powerful defender and Daw the athletic forward. For three quarters both dazzled and entertained in a power struggle within a bigger struggle as the Roos and Swans remained within touch of each other. Then Aliir got loose up forward for the Swans and kicked the match-winning goal in a thrilling finish. Aliir's effort sent Swans fans into delirium and Roo fans despair. On the day Daw on the statistical battle with four goals. Aliir's single goal won the match.
However, the footy was one thing. The positive influence the two Sudanese players will have on other young Sudanese players, or from other African countries could be enormous.
When interviewed on ABC Radio after the match, Aliir stated that, "we had a chance to chat about it [his and Daw's influence]. He set the tone for myself as a young kid playing under 18's, (while) he was the first Sudanese (player) to make it on an AFL list, I was looking up to him."
"He was able to contact me and give me advice and things like that and what I need to work on. I was lucky enough to share the field with him."
"Hopefully there's other Sudanese kids out there who want to play AFL footy one day, Majak certainly set the standards for us and I'm glad to see him doing well."
Majak Daw had a message also, in a time where youth from a number of African nations is receiving some unwarranted bad press. On the North Melbourne website, Daw stated that, "we both want to do well for our clubs, but at the same time we know the role we play for our community. I think if there were any African kids watching out there today, that was an example of it doesn't matter where you come from, you can play at the highest level, you can do anything in this country."
The indelible images taken during and after the game show two supreme athletes embracing and setting a standard for how to inspire young people to follow dreams and give their all.
It was a very special moment in footy.
Photo Credits: SEN (top), North Melbourne Football Club (bottom)