A Glimpse Into An African Future
Saturday, August 20 2016 @ 08:38 pm ACST
Contributed by: Wesley Hull
Views: 2,013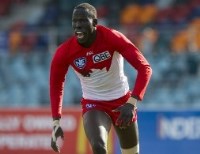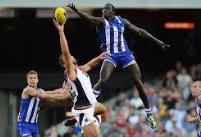 It lasted just 15 or so minutes, but while it was happening an entire future of footy flashed before my eyes. When today's AFL match between the Sydney Swans and North Melbourne started on a cold and showery Blundstone Arena in Hobart, Tasmania, two Sudanese players lined up on each other in key positional posts in an AFL match.
When the siren sounded to get the match started, North's Majak Daw, armed with more muscles than are probably necessary, lined up at Full Forward. Beside him in the goal square was Sydney's Aliir Aliir, the Full Back responsible for keeping club veteran Ted Richards out of the team. Well, that's probably unfair as injury and other players have also had a hand in that…but let's not ruin a good story!
From the outset, Daw was threatening. A contested mark early on set up a score. But Aliir won two one on one contests and played his trademark run and carry, dashing role well. If the points went to anyone it was probably Aliir, but that wasn't the…er, point. What was more compelling was an AFL match featuring two Sudanese players holding key positions and each impacting on the game.
Coming years will see more players from Sudan and other African countries find themselves on AFL team lists. Reuben William has managed three games this season with the Brisbane Lions off the rookie list and acquitted himself well to the standards required. Mabior Chol at Richmond and Gach Nyuon at Essendon are yet to debut but are project players. Their days will come.
But earlier this year and last year I interviewed some of the All Nations players at the National Diversity Championships. Martin Frederick (South Australia), Sandi Mathiang from Western Australia and Isaac William (Queensland and Reuben William's little brother) and many other players at those events come from Sudan and Kenya and have been inspired by those who have come before them – they want to succeed also. Those particular three are also bloody good footballers.
The success of Daw, Aliir and others not only inspires younger players to follow, it acts as evidence that the dream is achievable.
Watching those 15 minutes when two Sudanese talents locked horns was exciting. Not so much because they set the world on fire, but for what their battle represented. And I, for one, want more.
For the record, the statistics say that Aliir Aliir managed 13 possessions, 4 marks, 6 tackles and tallied 73 player ranking points in another workman like performance for the tough, relentless Swans. Majak Daw managed 9 possessions, 1 mark, 2 tackles and three hit-outs for a total of 30 ranking points. But that was for the whole match, and stats have never been regarded as an accurate measure of a player's worth. What is more valid is that both players contributed to their teams in a ferocious opening 15 minutes, pitted against each other.
And it was that 15 minutes that gave us the best glimpse into the future.