Leinster Takes Out "Province Of Origin" Tournament.
Monday, April 30 2018 @ 12:59 pm ACST
Contributed by: Wesley Hull
Views: 1,003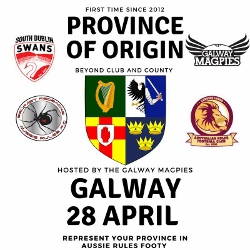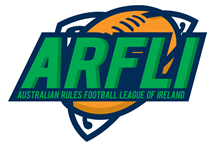 The eastern province of Leinster has taken out the first Province Of Origin tournament to be played in Ireland since 2012. In an exciting re-addition to the Irish footy scene, the tournament – hosted by the Galway Magpies from the Connacht province and sponsored by Life Pharmacy – has the new 2018 ARFLI season off to a great start in Ireland.
A previously reported (see
Province Of Origin Clash To Return To Ireland
) it has been a long time between drinks for the provincial battle where players born in any of the four provinces (Leinster, Ulster, Munster or Connacht) can represent that province with pride in a similar way to "state of origin" style pride and rivalry.
Back in 2012 it was Munster, the southern province and home to the Leeside Lions and UCC Bombers, holding aloft the prize, downing Leinster. This year Leinster turned the tables, comfortably defeating the Munster team to be the 2018 "POO" (Province Of Origin) champions.
In the opening qualifying matches, Munster held off a determined home team, Connacht, to take a 17-point victory. In the other match, Leinster proved far too good for Ulster.
This set up a clash for 3rd and 4th place between Ulster and Connacht which in the end was won commandingly by Ulster to the tune of 63 points, making it a tough day out for the Galway locals.
The final ended up being something of a one way street as the Leinster team – predominantly from the Dublin-based teams, got off to a powerful start and kept going on their way to a 72-point trouncing of Munster. Leinster have set the bar high for the hoped for 2019 tournament.
Results:
Game 1 – Munster 8 5 53 d Connacht 5 6 36
Game 2 – Leinster 11 5 71 d Ulster 3 3 21
3rd Place Playoff – Ulster 13 9 87 d Connacht 3 6 24
Final: Leinster 16 5 101 defeated Munster 4 5 29
Player of the Tournament was Declan Morgan from Ulster. Leinster's Drew Baldwin too out the top goalkicker honours for the tournament.