Province Of Origin Clash To Return To Ireland
Thursday, March 29 2018 @ 08:56 am ACDT
Contributed by: Wesley Hull
Views: 1,106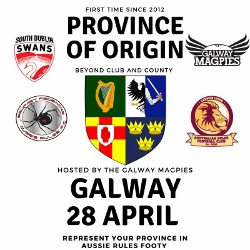 It was back in 2012 when the most recent "Province Of Origin" football tournament took place in Ireland. Next month the event returns after a six-year hiatus. The concept is simple – Ireland is separated into the four key provinces – Ulster, Munster, Leinster and Connacht – loosely, north, south, east and west – and the teams play for the pride of their province.
The call to action is out now to get as many players as possible interested in heading to Galway for the event.
According to Ronan O Móráin, organiser of the event along with Padraig Brady, Tony McAfee and Shaun Murphy of the Galway Magpies , "The Galway Magpies are hosting the 'Province of Origin' in 2018 in Galway. This event was a great success when last hosted in 2012 and we are trying to make it a big success with the hope of making it an annual event. It is open to Irish players and anyone of Irish descent and is a great opportunity to play for your province. Those interested must register on the link in the event page (
https://www.facebook.com/events/152586618899840/
). Cost includes an O'Neills guernsey and the cost of medals and ground hire."
To answer whether or not a player qualifies for a certain province, Ronan explained that, "interestingly it doesn't go by which team you're playing with - it is your province of origin. So, if you're from Galway or Mayo but playing with the Redbacks, Swans or Lions you would play for Connacht. We are opening it up to any players with a connection to Ireland so if you're family is from Kerry you're welcome to play for Munster or if you are from Perth and married a Donegal lady, for example, you can declare for Ulster. At the moment it's a men's competition and if we have numbers we will run a women's tournament."
Guernsey designs for the event are expected to be released via the event's Facebook link shortly, as is a major sponsor for the event – likely to be the Life Pharmacy Group.
So, those who play footy, want to play footy or simply want to get their support behind the 'Province of Origin" event, register your interest on the link above and get behind your province in what is the Irish equivalent of Australia's "State of Origin" clashes from bygone days.
It is sure to be a great event, and a welcome return after six long years, with AFLI [formerly ARFLI) supporting the event.