McKenna heads to tribunal charged with serious misconduct
Tuesday, April 10 2018 @ 01:25 pm ACST
Contributed by: Troy Thompson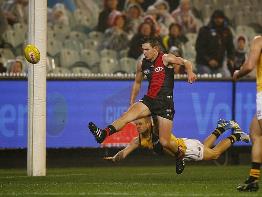 The AFL Tribunal will sit at 5.30pm tonight, Tuesday April 10 Melbourne time, to hear the charge laid against Essendon's Conor McKenna from the weekend's Match Review.
Irishman Conor McKenna, Essendon, has been charged with serious misconduct against Tory Dickson, Western Bulldogs, during the second quarter of the Round Two match between Essendon and the Western Bulldogs, played at the Etihad Stadium last Sunday.
Based on the available video evidence and an investigation from the AFL, the incident was classified as serious misconduct. It is alleged that McKenna bit Dickson while on the ground near the boundary line after Dickson ran McKenna down and tackled him.
Under the Tribunal guidelines, serious misconduct is referred directly to the Tribunal and there is not the opportunity for an early plea to be offered.