McKenna "Never Wanted To Leave"
Sunday, April 08 2018 @ 11:02 am ACST
Contributed by: Wesley Hull
Views: 3,924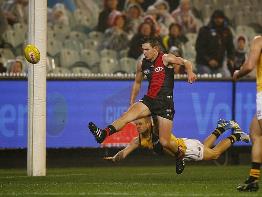 Callum Twomey from the www.essendonfc.com.au website wrote this article in the lead up to the 2018 AFL season, looking at the journey of Irish Bomber, Conor McKenna. Since that time, McKenna has been one of Essendon's best players in both of their games to date against the Adelaide Crows and the Fremantle Dockers. On Sunday, he is primed to take on the Western Bulldogs with his Bomber teammates. 
In Ireland's Gaelic competition, players very rarely switch clubs. They join the county side that is most local to them, where they've grown up, and stay there for the rest of their careers. 
"Wherever you're born you play for," explains Conor McKenna, who left Ireland aged 18 to pursue an AFL career with Essendon. 
"Basically back home it's like if you are born in Essendon, you play for Essendon. If you are born in North Melbourne, that's where you play.
 "It's all about that culture, and no matter if you're the worst team or the best team, you just play for that side.   
"You can be traded, but it's very, very rare unless people have a job two or three hours from their home place. It's more about playing for the pride of where you're from." 
Being a league of amateurs – players still have day jobs while they play at the top level in Ireland – makes this more understandable. But it also underlines how McKenna was faced with a new dilemma at the end of last season, when rival clubs came hunting for the dashing Bombers half-back as he remained out of contract.
Brisbane offered a lucrative long-term deal and the Lions weren't the only ones to show their interest. But Essendon came to the party with a four-year deal tying McKenna to the club until the end of 2021, and the 21-year-old agreed to it.
"Most Irish boys here stay with the same team. Maybe some players chase success, but I think we'll get success at Essendon so I'm happy," he told AFL.com.au on the eve of his fourth season. 
"I didn't really talk much about the contract during last year, I wanted to concentrate on my football and not have any of that business taking my mind off it. I got to my last two games and started to get seriously talking. My manager said they'd offered a four-year deal, and I signed it. 
"I never wanted to leave. I've been here for three years and for me to go somewhere else it would have meant, although I wasn't starting playing again, I would have had to meet new people, make new friends. It would have been a big change. I was always happy to stay at Essendon." 
It's easy to see why McKenna had suitors. He's what clubs are searching for in their attacking backmen: he's fast, he loves to run and carry and he's a terrific kick. 
Last season he played 19 games and averaged 17 touches, but McKenna still didn't feel settled. This year, after a pre-season interrupted slightly by an ankle injury he suffered preparing for the International Rules Series, he has a clear idea of how to improve again.
"I really want to get to that consistent level where you know what you're going to get from me every week. That's where every player wants to get to and what we want as a team, so everyone knows they can look at me and know what I'm going to be able to give," he said.
"You can't just stop now with one good year behind you." 
McKenna's has been a swift rise. In April, 2014, he played with the European Legion (a side made up of players of different ages from across Europe) in London in a game against the touring national Academy squad of draft prospects for that year.
Against the likes of Christian Petracca, Isaac Heeney and Lachie Weller, McKenna starred with four goals. 
He had spoken to a couple of AFL clubs, including Essendon, before that day about a possible AFL career after showing his talents playing for Tyrone county. That night, several more recruiters introduced themselves to gauge his interest. 
Six months later, he was officially a Bomber and another 10 months after that, he made his debut for Essendon against Richmond in round 22, 2015, kicking a goal with his first touch. 
McKenna looks back on that game in London – his first ever – with some fondness as the beginning of a whirlwind. 
"When you don't understand the game you just go out and play it with no fear and do whatever you can with the ball and that's what I did. I tried to play Gaelic with an AFL ball," he said. 
"It's gone very quick. The first two years felt a bit slower and I was a bit homesick, but that's the main thing for Irish players – get over that and it becomes a lot easier. 
"You have good days and bad days, and sometimes you wake up and see a video from back home and you miss it and wish you were there. But I have committed here now. It's my decision and if I didn't want to be here, I wouldn't be." 
McKenna's brother and his girlfriend have moved to Melbourne, and he's looking forward to moving in with them soon to counter his lack of family in Australia. 
He still plans on one day heading back to play for Tyrone in the Gaelic competition – "… to win a premiership here and then one at home is the dream," he says – but until then the Bombers have his full devotion.
However, he'll always have his Gaelic background running through his game, which was on show against Richmond in the JLT Community Series when McKenna twice kicked the ball to himself while running around an opponent. 
"It's called a 'solo' back home, and you have to do one every four steps in Gaelic. I went to kick the ball and saw someone about to block it, so at last moment decided to pull it back. It worked the first time," he said. "The second time I did it, I don't know what I was thinking there."
The original story can be found on the Essendon Football club website at: http://www.essendonfc.com.au/news/2018-03-20/mckenna-i-never-wanted-to-leave