AFL gets $2.508 billion broadcast rights deal done
Wednesday, August 19 2015 @ 08:45 am ACST
Contributed by: Troy Thompson
Views: 1,056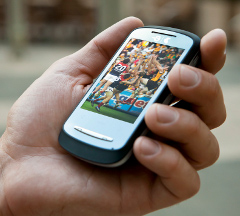 The AFL last night announced it had completed the broadcast rights deal for the period 2017-2022. The deal for Australian free to air, Pay TV and digital media rights will provide the clubs and players of the AFL with financial surety for that period and also allow the AFL to divide up the remaining cash to run the competition and fund development.
The following statements from CEO Gillon McLachlan and AFL Commission Chairman Mike Fitzpatrick outline the deals. Any mention of international footy or fans outside Australia is notably absent which is somewhat understandable given this deal is all about domestic broadcasting. It is still disappointing though that in the statements relating to the current state of the game and future growth that there is no mention of the game outside Australian shores. The details of any carve up of cash and what proportion may go into international development will come down the track but given the omission in the following statements it would seem to be currently far from front of mind for the CEO or the Commission. Having said that it was not mentioned during the previous deal announcement either.
Mike Fitzpatrick, Tuesday August 18
Thank you all for coming
I would like to introduce everyone here at the table.
From Network Seven:
o Kerry Stokes, Executive Chairman of Seven Group Holdings and Executive Chairman of Seven Network
o Ryan Stokes, Managing Director and Chief Executive Officer of Seven Group Holdings.
o Tim Worner, Chief Executive Officer, Seven West Media
Executive Chairman of News Corporation and 21st Century Fox, Rupert Murdoch, and Chief Executive, News Corporation Robert Thompson.
From Telstra, Chief Executive Officer, Andy Penn and Joe Pollard, Group Managing Director, Media and Marketing.
As Chairman of the AFL, and on behalf of our clubs and supporters, I thank you, our media partners for being here, and for your commitment to our game.
I speak on behalf of the industry in saying we know this will be a great partnership.
Before I hand over to Gillon McLachlan to outline the detail of the announcement, I want to congratulate him and his team for negotiating this historic agreement which I believe delivers our game the security and resources it needs to remain Australia's number one sport into the future.
I also want to thank the Media sub-committee of the Commission – thanks to Kim Williams and Paul Bassett, experienced executives who have assisted in guiding the AFL through this process.
The AFL understands the challenges ahead for our sport in a rapidly changing and increasingly globalized environment.
We don't take success for granted, and we have always endeavoured to look ahead and make hard decisions for the long-term future of the game.
The last ten years have been about expansion and investment in the AFL competition. Over that period, we added two new teams and invested in stadiums and infrastructure at the elite and community level around Australia.
Senior AFL football is now played in every state and territory.
Our challenge over the next decade is to make the right investments to grow our reach into every state, region, town and community. Last year we had an average of 32,000 at our Toyota AFL premiership games , we had over 1 million participants, and we have over 13,000 teams in 267 leagues across Australia, and we had nearly 200,000 women participating in the game.
These are the figures and numbers we need to protect and grow.
We need to continue to be the first choice for our elite and talented athletes, we need to strengthen our clubs at all levels, and we need to invest in the community level of our game.
This agreement with News Corporation, the Seven Network and Telstra will allow us to make the right investment to keep our game strong.
I am now going to ask Gillon McLachlan to outline the details of the agreement, and again I want to congratulate the team on this great outcome for our game.
STATEMENT BY GILLON McLACHLAN
It is a great day for our game, the game that so many Australians love and care about.
I said when I became CEO that it is my job to deliver for four masters - supporters, clubs, players and community.
I am really delighted that this agreement delivers for those four pillars of our game:
•For our supporters – we are delivering maximum reach and maximum exposure, and we the AFL remain in charge and in control of our fixture.
•For our clubs and players – we are delivering financial security to allow future growth and certainty.
•And for the community – this agreement will allow us to focus resources to the foundations of our game – to ensure they stay strong, and grow into new areas, into new communities, to create new generations of supporters, members, players and volunteers. .
The AFL's challenge is to stay Australia's game.
And this new agreement for the next 6 years gives our game a chance to invest in the future.
I am going to take a bit of time to outline the key elements here:
· This is a 6 year agreement from 2017 to the end of the 2022 season.
· The AFL continues to have full control of the production of the fixture, including the scheduling of the Grand Final.
· The AFL Season will continue to be a 22-match season for each of our clubs, with a standard round of 9 matches.
· Outside of Thursday night matches, and public holiday schedules and bye/split rounds, the competition will have:
•1 Friday night game
•2 Saturday afternoon games
•1 Saturday twilight game
•2 Saturday night games
•2 Sunday afternoon games
•1 Sunday twilight game
· The AFL's agreement with our partners will cover:
o The Seven Network for free to air
o News Limited for Subscription Television across Foxtel and the Fox Footy Channel
o Telstra for the Live AFL App, afl.com.au, club digital network and IP TV.
· The agreement covers 6 seasons from Season 2017 – 2022, and will deliver the AFL a financial return of $2.508 Billion.
Free to Air –Seven Network will be our partner
Thanks to Kerry Stokes and Ryan Stokes and the Seven Network for your continued support of our game. Seven and Kerry Stokes have been an extraordinary partner for the AFL for decades and I thank him for their continued support.
· Seven Network holds the Free to Air rights, and includes:
o The Toyota AFL Grand Final exclusively live in every state and territory.
o The Brownlow Medal count exclusively live in every state and territory.
o All matches in the Toyota AFL Finals Series live in every state and territory.
· During our Toyota AFL premiership season, the Seven Network will broadcast:
o Each Friday night match live in every state and territory.
o One Saturday night match live in every state and territory.
o One Sunday afternoon match in the 3.20pm Eastern Time zone slot live in every state and territory.
o In addition, the Seven Network will telecast a further 11 games live across the season that are played on public holidays, the eve of public holidays such as Anzac Day / Easter Thursday and between 5-6 Thursday night games.
o In effect, across an average two normal rounds of 18 matches in our regular season, the Seven Network will broadcast seven games, equating to 3.5 matches per round across the season.
· NSW/QLD:
o All of the matches for the NSW/QLD teams – the Gold Coast Suns, the Brisbane Lions, the Sydney Swans and the GWS Giants – will continue to be shown LIVE on free to air television.
o As our game develops across the country, this support from the Seven Network is pivotal for us.
o In Western Australia and South Australia – where the Adelaide Crows, Port Adelaide, West Coast Eagles and Fremantle dominate the sporting landscape, matches will be shown on free to air television, but three matches for each team in the premiership season will be broadcast on a delayed basis.
Subscription/Pay TV – Rights have been acquired by News Corporation.
Thanks to Rupert Murdoch and Robert Thompson on behalf of News Corporation. Mr. Murdoch is a legend of world media and I want to thank him for his personal support in this agreement.
•All nine games each week - every game of every round during the premiership season, to be broadcast live;
•Across an average of two normal rounds of 18 matches in our regular season, Foxtel and the Fox Footy Channel will produce the broadcast for 11 matches, equating to 5.5 matches per round, while broadcasting the other matches live.
•News Corporation has the right to sub licence one game per round each weekend, which would be played in the Saturday Eastern time zone slot of 3.20pm, to a free to air provider, if it wishes to do so.
•With the exception of the Toyota AFL Grand Final, all other matches in the Toyota AFL Finals Series will be broadcast live.
•In Western Australia and South Australia, Foxtel and the Fox Footy Channel will exclusively broadcast live three premiership season matches for each of the teams based in those states – West Coast, Fremantle, the Adelaide Crows and Port Adelaide – with those matches to be replayed on delay on free to air television.
Digital Rights – Telstra will again be our partner.
I want to thank Andy Penn and Gordon Ballantyne from Telstra. Our relationship with Telstra has delivered Australia's number one digital sports property and we are very pleased to be continuing that relationship. Simply, they have been a great partner and I want to thank Andy for his faith.
•Telstra will again hold the AFL rights for all hand-held mobile devices, the AFL website – afl.com.au – which is the most-visited sporting website in Australia, the club digital network and IP television.
•Telstra will deliver every game, every week, live, in the palm of your hand, no matter where you are in this country.
Finally I want to thank my team. I won't thank them individually, but they have made an extraordinary effort over the last few days.