AFL announces new $1.253 billion TV rights deal
Thursday, April 28 2011 @ 03:22 pm ACST
Contributed by: Troy Thompson
Views: 2,717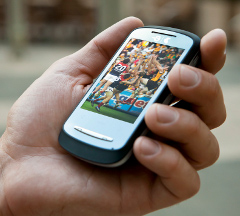 The AFL today announced the new TV rights deal that will begin in 2012. Ironically the announcment was delayed by an hour from the AFL's appointed time, when avoiding delayed matches has been part of putting together the terms of this deal. With the introduction of the expansion clubs Gold Coast Suns and GWS Giants the season will now see nine home and away games played each week. The major increase in the amount payed for the rights is due to the extra game content that will now be available to broadcasters.
Foxtel will broadcast all nine games live each week, with Channel 7 showing a minimum of four games each week and Telstra able to broadcast all games live online and through mobile devices each week. Many will not be happy with the pay TV channel having such a big hold on the televising of football though and it remains to be seen how well this will be received overall. But overall it seems the free to air, Telstra and Pay TV viewers will get a better deal.
There will be plenty of hands out for their share of the pie. At the top of the tree will be the AFL clubs and the AFLPA who will look for increases in players' pay salary. Below this will be various leagues and football bodies across the country as well as football development departments. With Australian football growing in participation numbers around the world most of our readers will be hoping for an increase in budget for international development. Given the way this has been done historically it could mean some increases in funding for junior development, elite junior pathway funding, administrative assistance and funding of the International Cup. But it is unlikely that the affects of this will be seen directly at club or league level except where it is a flow on from junior development efforts.
The full announcement of the rights deal can be seen below. Andrew Demetriou's statement:
I would like to welcome a number of key people who are here. Gillon McLachlan, our Chief Operating Officer, who will be able to speak a lot of the detail of your questions today regarding specifics in each state, and of course our broadcast partners.
And acknowledge our broadcasters again, Seven Network, Foxtel and Telstra.
As our Chairman has stated, this agreement for the next five years is an important result for the supporters who love and own our game, our clubs, our players, our state and territory bodies, our volunteers and participants at every level.
Equally, we believe this agreement to be an important result for our partners, so that all AFL supporters across every part of our country are able to watch Australia's leading sporting code at times that suit them, in ways that suit them, across free to air television, subscription television, IP television and mobile platforms.
The AFL Executive and the Commission began the process of our valuation of our rights some two years ago and the detailed discussions around these negotiations has taken nearly 12 months.
Across that period, we have also been in very detailed discussions with the Federal Government around the anti-siphoning laws, and I would like to thank Minister Conroy for his leadership in this area, and getting the right balance between the interests of FTA and Subscription .
Significant reach on free to air TV has always been extremely important to our supporters and to the AFL, and will remain so with our major showpiece games during the home and away season, and all finals, available on free to air television.
That has always been a guiding principle.
With the support of Foxtel and Austar, every game, every week is available live to fans across the country, through subscription television and IP television. To be clear for our fans every game through the Toyota AFL Premiership season will be shown every week in every state live thanks to our partners Foxtel and Austar.
Telstra will also enable supporters to watch every game live via their mobile phone for the first time ever.
Now to the detail.
Let me start with free to air television – and our partners the Seven Network – which first partnered with football in 1957, in the earliest days of free to air TV in our country.
Channel Seven will broadcast a minimum of four games per weekend in a standard round.
In NSW, the ACT and Queensland, there will be four games of live football on free to air every week. In these markets, all four games will be broadcast on Seven Mate, creating a free to air AFL destination supported by strong cross promotion support on the Seven Primary Channel.
In Victoria, Friday night football will now be live, with a reduced delay to be near live at 30 minutes in South Australia and a reduced delay in WA for Friday night games.
In Victoria, Saturday night football and Sunday afternoon football will be live on free to air, with only the Saturday afternoon game on delay. In SA and WA, the majority of Saturday Night and Sunday Games will be live.
This represents an outstanding result for our fans across the country, with more live football on free to air television than ever before.
All finals will be broadcast live on free to air television, in all parts of Australia.
As I said, free to air television has been a key partner in building our game for more than five decades, and I want to thank David and Channel Seven for the trust they have in the strength of our sport, and express the appreciation of our supporters.
As part of the free to air arrangements with Channel Seven:
Supporters in South Australia are guaranteed of being able to see the Adelaide Crows and Port Adelaide on free to air television for all their clubs' matches,
West Australian fans will see West Coast and Fremantle for all matches,
Queensland fans will see the Brisbane Lions and the Gold Coast Suns for all matches and,
New South Wales, our newest team, the GWS Giants and the Sydney Swans will be seen for all matches in that state.
It is only in recent years, with the support of Foxtel and Austar and Fox Sports, that our game has been in the privileged position of every game every week being able to be seen by fans. While a few of my games were best left unbroadcast through the 1980s, a much better player like Mike wasn't able to have a record of every single part of his career.
Under this agreement:
Fox Sports, through Foxtel and Austar, will deliver every game of every round during the Toyota AFL premiership season, live in every state.
Every game, every week.
Under the current agreement, Fox Sports currently deliver four live games in full. This rises to nine games.
IN September, every final, with the exception of the Grand Final, will also be live in every state.
In Western Australia, NSW, Queensland and South Australia, where there had previously been issues with blackspots for some games that weren't shown, these have now been solved, so that every game is seen in every state, with Foxtel using multiple channels where games overlap. I thank Foxtel for this great step forward for our supporters
Additionally this will be supported by all Nine games live on IPTV through Foxtel IQ and the Telstra T Box.
As we know, the world is changing rapidly and the advances happen by the day. I already leave a number of significant responsibilities in our house such as programming our television, recording things and understanding new technology to the twins, and the three-year-old.
Our children access new media in so many ways and I am delighted to say that for the first time in the game's history, every match will be available live, on the mobile platform, via Telstra.
Every match, live, available in the palm of your hand.
To repeat the words of our chairman, this is an important agreement for football supporters across the country.
More people now have more access to more games in more places and delivered by more media platforms than ever before.
Also I am happy to say that this agreement will also deliver greater financial security to the football industry than ever before.
The total Broadcast Outcome is $1.253 billion over 5 years, with a cash contribution over five years of $1.118 billion, and a total contra contribution of $135m. The total cash contribution compares with $749m in the last period for all rights, a significant increase.
That is a great outcome for the football industry that has contributed to the success of our competition.
In the coming months we will work with our clubs, our players, our state and territory bodies that we work in conjunction to oversee the development of the game at community level, to work through the investment priorities but in doing so we will keep at the forefront of our mind the need to ensure:
Affordable admission for our supporters and families to keep them coming to our games
Affordable club memberships to allow families to belong to their clubs
Affordable participation in community programs such as NAB AFL Auskick and club football so more families can participate in our game.
We think we have provided a comprehensive TV arrangement across free to air television, subscription television and mobile platforms.
In the future in partnership with our broadcast partners, we will provide better coverage, a better product and a better result for all our supporters.
We now must work with our clubs, our players, our state and territory bodies and other parts of the football industry to ensure that in determining the distribution of revenue, we continue to do so in a way that ensures our supporters continue to enjoy affordable admission prices and memberships.
Supporters will – as always and as they have been throughout this process – be at the heart of our decision-making.
Like Mike, I also want to thank Gillon McLachlan and the broadcast team, including AFL General Manager of Business and Legal Affairs Andrew Dillon, Head of AFL Media Broadcasting Sam Walch and Broadcasting, Scheduling and Legal Affairs Manager Simon Lethlean for their work in concluding the arrangements.
Mike Fitzpatrick's comments
Mike Fitzpatrick, Thursday April 28
Today is an historic day for Australian football. It's also an important day for the millions of people across the country who love and support our game and who make it so strong.
I want to welcome everyone seated here.
Andrew Demetriou, AFL chief executive officer.
Gillon McLachlan, AFL chief Operating Officer
And our broadcast partners for 2012-2016
David Leckie, CEO of the Seven Network
Kim Williams, CEO of Foxtel
JB Rousselot , Executive Director, Telstra Media
David Malone, chief Executive Officer, Premier Media Group
Deanne Weir, Group Director of Corporate Development with Austar
Welcome. We are looking forward to working with you over the next five years.
Firstly, I want to pay tribute to our broadcast partners for the last five years –Channel Seven, the Ten Network, Telstra, Foxtel and Austar – and thank them all for their support of our game.
Before I turn to Andrew to outline the details of our new broadcast arrangements I want to just make the point that the overwhelming guiding principle of these negotiations was to deliver our supporters a better TV deal wherever they are around Australia.
We believe we have achieved that. This is a landmark agreement that will take the game to more people than ever before, in ways never seen before.
In the next five years our supporters will have better access to live games on TV, better access to live games on mobile phones, better access to live games online and, most importantly, that coverage will be better than ever before.
This has been achieved in an environment of unprecedented change in the media landscape. New anti-siphoning legislation, new ownership, new FTA channels, IPTV, broadband mobile, digital and HDTV. The media world is transforming, and this transaction has sought to capture that to benefit football.
Right across the country every fan of the AFL game has a better TV outcome than the last deal and will be able to watch games in ways never seen before.
Some will see this deal in terms of dollars.
Something that is often forgotten is that the AFL is a not for profit community organisation and revenue generated by our game goes back into our game. To help grow the game at all levels.
We will be focussed clearly on what this deal means:
for our clubs and their role in communities across Australia,
for our players and the development of the next generation of stars who will inherit the game
for our state and territory bodies and their vital role in providing the foundations of our support
for our volunteers who love the game
and for our supporters who are the heart and soul of the game.
Although we must balance the needs of our clubs, our players, our state and territory leagues, our development programs and our facilities, we will do so while ensuring our football admissions prices are kept low and our clubs memberships affordable.
We want our clubs to have the opportunity to be financially secure, we want our players to be well-paid and to share in the rewards, we want our venues to provide excellent facilities for our spectators, we want our development programs starting with NAB AFL Auskick to be accessible and affordable for all families.
We recognise our role as a leader in the community and will continue to work with our state and territory bodies and with all levels of government to provide benefits to the broader community.
I want to thank Andrew Demetriou and Gillon McLachlan and the team at the AFL including AFL General Manager of Business and Legal Affairs Andrew Dillon, Head of AFL Media Broadcasting Sam Walch and Broadcasting, Scheduling and Legal Affairs Manager Simon Lethlean.
They have delivered a first-rate outcome for our football community and our football supporters.
This is a great deal for football and a great deal for all of the football industry which has contributed to the growth of the game.
Most importantly this is a great deal for football supporters who remain the heart and soul of our game.