100 Reasons to Like Mike…
Saturday, June 06 2015 @ 07:32 pm ACST
Contributed by: Wesley Hull
Views: 1,554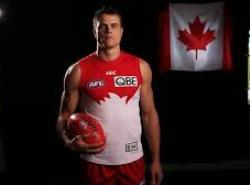 Watching Sydney Swans player Mike Pyke being chaired from Metricon Stadium tonight after playing his 100th game against the Gold Coast Suns was quite special. Not so much the fact it was 100 games, but that it was achieved by a player who, by his own admission, would have been content to play just one.
To reach the 100 games mark after switching codes sends strong messages to any other players from overseas. If it isn't enough to see Pyke's milestone as proof that it is important to follow your dreams, he has also demonstrated that age, background, tyranny of distance and knowledge of the game are just small impediments on a journey which is dictated more by determination, opportunity, a little luck and most of all belief.
Much has been written about Pyke's journey previously
Pyke reaches the peak of Aussie Rules Football
and his story is inspirational, especially when looked at from the point of view of international success for prospective players. But a brief recap certainly provides a remarkable insight into a very talented athlete.
As a 20 year old, Pyke commenced an international Rugby Union career representing Canada against Japan. His international career lasted 17 international test matches including a try scored for his country against the all-powerful New Zealand All Blacks. Not an everyday feat. In fact his career saw 30 points scored at an international level.
With such a resume playing Rugby Union, a switch to Australian Rules football could be seen as a big surprise – something out of left field. But Pyke has said before that he was looking for other challenges after injury curtailed his rugby career. The Sydney Swans took an interest in Pyke and rookie listed him in 2008 and by degrees he has become a better and better footballer. In 2010 he won the Swans' Most Improved Player Award. Evidence of this continued improvement was a 53 hitout ruck performance against Carlton last year as well as a 49 hitout effort against Essendon just two weeks later.
It helps that Pyke has been a member of one of the AFL's most powerful teams of the past decade, but his milestones could not have occurred without either natural talent, a result of having also played basketball and soccer is his youth, and an enormous appetite to learn and master his adopted code.
Now Pyke has a premiership medal after being a part of the Sydney Swans 2012 premiership team, and today joined the esteemed "100 Club" of AFL footballers. Not a bad effort for a player described by notable football commentator Brian Taylor as "the worst player in the AFL", and the Swan's decision to take the mount on him as "a joke".
Having turned 31 in March, Mike Pyke is heading into the twilight of his career. But he has done himself, his club, family and supporters proud. He has also, forever, changed the game in terms of what international players can achieve in Australian Rules football. He may also have a big say in how much further the game grows in Canada, and elsewhere, once his playing days are done.
But for now the AFL should be proud of welcoming Mike Pyke to a very special group of players to reach 100 AFL games. We should all hope for many more.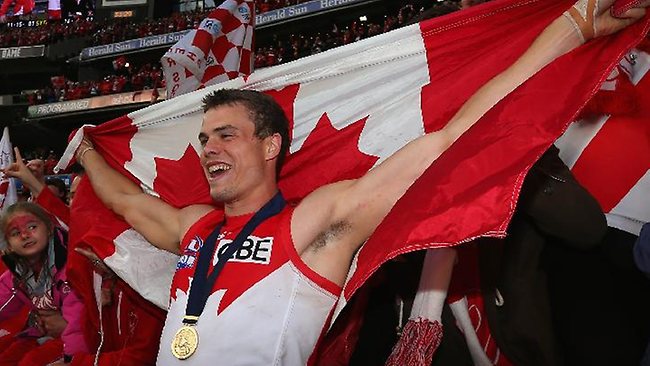 Photo Credits: Left - Daily Telegraph,
Top -
news.com.au