Pyke reaches the peak of Aussie Rules Football
Saturday, April 04 2015 @ 08:05 am ACDT
Contributed by: Wesley Hull
Views: 2,341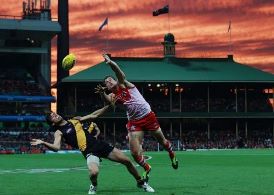 The following is an extract from an excellent article by Justin Robertson in the Toronto Star, the largest daily newspaper in Toronto, Canada. It looks closely, and proudly, at the success of Sydney Swans ruckman, Mike Pyke, but also paints a good picture of the game of Australian Rules football in the Canadian sporting landscape.  
Australians can spend 20 years trying to win a premiership. Pyke won a flag three years into his AFL career.
Ask a rookie viewer of Australian Rules Football to describe the sport, and they might say utter chaos — and, also, a bit like rugby. Ask Canada's Mike Pyke to describe it, and he'd say it's one hell of a job.
Pyke is, perhaps, the unlikeliest of this rough-and-tumble sport's heroes: A 6-foot-6 native of Victoria, B.C., he grew up playing basketball, soccer, and hockey before turning his focus to rugby. But in 2008, when he was playing for French rugby union team US Montauban and injuries took its toll, it forced Pyke to look for work after his rugby dreams fell through. On a whim, a friend suggested he give Aussie Rules a try — no pun intended.
At that point, Pyke had only seen a smattering of YouTube clips of the sport, of men jumping on shoulders to catch the ball in front of 80,000 fervent fans. But Pyke thought his rugby ball-handling skills were transferable, so that June of that year he headed to Sydney for tryouts with the Swans, runners-up in last year's Grand Final.
A few days later — after endurance tests, agility and speed analysis — they signed him, and this weekend marks Pyke's seventh year with the Swans. For the first time in his 90-game career, Pyke will start the season as the number one preferred ruckman, a position where the player is in the thick of play, battling for the ball.
"It's something I'm more comfortable with this year. I know what to expect. Last year I'd only played on my own three times. I certainly wasn't used to it," said the now 31-year old Pyke. "Having a short pre-season didn't help my campaign, but this year I feel a lot more comfortable with it."
Recently, Aussie Rules has seen an influx of international recruits from Ireland, Sudan, New Zealand, France and the United States; Pyke was the first Canadian to play in the league, and in 2012, he became the first to win an AFL title, with the Swans.
When Pyke first joined the Sydney Swans, many predicted it would take him years just to be competitive, and some former Aussie Rules players called the Canadian experiment a joke.
Australians eat and breathe their football, the way Canadians pay homage to hockey, but for foreigners making the switch it's not so easy. (There is an Aussie Rules league in Toronto, called the Australian Ontario Football League, with 800 players, roughly 400 of whom are Canadian. It has two men's divisions and a women's league. The men's second division trophy is called the Mike Pyke Cup.)
To read the rest of this story about Mike's journey and success at the highest level of the sport, follow this link: http://www.thestar.com/sports/2015/04/02/pyke-reaches-the-peak-of-aussie-rules-football.html
Picture: Craig Golding/AFL Media/Toronto Star