Kenyan Horizons
Thursday, January 01 2015 @ 11:21 pm ACDT
Contributed by: Wesley Hull
Views: 2,644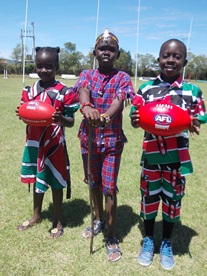 According to Don Cruttenden, Kenya is a country that is just waiting to embrace Australian Rules football. As he says "With its hospitable weather, largely active and energetic population and standing in the world as the producer of the greatest supply of middle and long-distance runners in the world, I believe the potential for the game to advance in Kenya is immense."
Rumblings of the game being played in the African nation have been around for a little while, notably the recent work of Tom Purcell in Nairobi who has pioneered local games including the recent challenge match between Kenya and Tanzania. See our article
Buffalo soldiers: Kenyans beat Tanzanians in historic match
.
Don, however, is moving to take things much further. His role as a teacher at the Greensteds International School in Nakuru (Kenya's fourth largest city, 160 kilometres north-west of the capital Nairobi). His role as Director of Physical Education at the school has allowed him to introduce Australian Rules football into the school program.
As he explains, "Through my own efforts I have introduced some Australian Football lessons at the school. The students enjoyed it immensely. The sporting facilities at the school are very good. The school is set on 60 acres and includes 2 x very large playing fields, a swimming pool, gym and boarding accommodation facilities. I have erected Australian football posts to use by the children."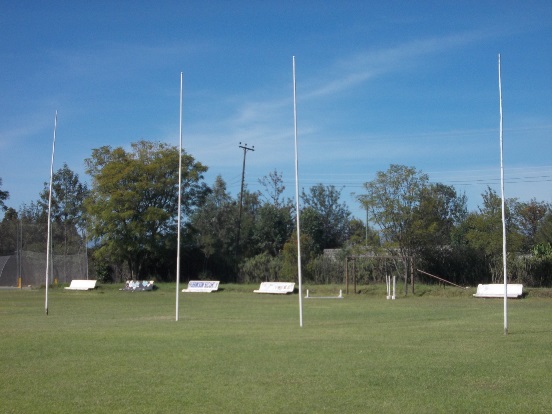 Left: The first Australian Rules goal posts in East Africa
"On two occasions in late 2014 I have travelled to Eldoret / Iten (about 160km from the school) to conduct football clinics at St Patricks school. The town Iten is famous for producing more Olympic medallist and marathon winners than any other place in the world. The school has most recently produced World and Olympic 800 metre champion David Rudisha. On both occasions I was very impressed with the boys who attended. On both occasions I had over 60 x 16 year olds trying the game for the first time. The area around Iten is quite poor with limited facilities, however, recently facilities such as the Lorna Kiplagat High Altitude Training centre, where the UK Athletics team trains over the winter months, have opened to cater for elite and amateur athletes from around the world."
Don has his own decorated background in Australian Rules football, and it is this knowledge and love of the game which has seen him accept the challenge to bring the game to the youth of Kenya and build a solid foundation for the game. Prior to his current roles, Don played the game with great success in the Sydney competition with the University of NSW team then in Broome in the West Kimberley Football Association and also in Perth. As he says, "In Australia, I grew up on the eastern seaboard, however spent a long period of my adult life teaching in remote Aboriginal communities in the Kimberley region of NW Western Australia." This background will certainly serve him well as he tries to develop a new African market.
The plan will include his existing range of clinics, but Don is also looking at having boarders from Iten and other regional towns to come to the school in Nakuru (and later others) to have their education in conjunction with learning Australian Rules football. A range of scholarships, clinics, scheduled matches and support programs are planned to allow students to develop along a continuum of opportunity. Some of these options include the chance for talented players to possibly take on further opportunities in Australia, possibly linking with the Sydney Swans Academy and the renowned Clontarf Academy in Western Australia amongst a host of other club based options.
Don's is a bold vision, and will take enormous commitment and resourcing to succeed. However, he has already seen successes which offer a glimpse into an even more successful future.
We will watch this development with great interest and World Footy News will continue to report on the progress of the game in Kenya.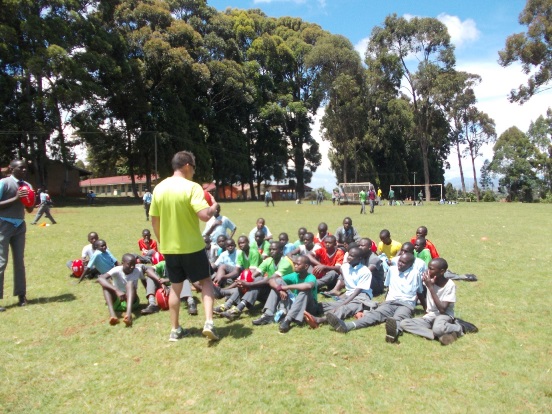 Left: Don Cruttenden's Australian Rules clinic in Kenya