Analysis by the numbers (team by team review) – Axios Euro Cup 2014
Monday, October 06 2014 @ 05:39 pm ACDT
Contributed by: Wesley Hull
Views: 3,286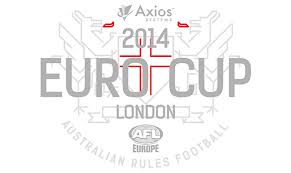 Without the ability to watch all teams over the course of all matches at the Euro Cup it is difficult to do an all-team analysis. For that reason, this analysis looks at the performances of all teams over the course of the event by looking at the numbers. This analysis looks at both the men's and women's teams.
Some readers who were there may see things slightly differently, but we would welcome any constructive insights in the comments section of this article below.
The corresponding article after the 2013 Euro Cup in Bordeaux was sub-titled "Something for Everyone" - http://www.worldfootynews.com/article.php/20130922221122206 , which was true in that all teams had periods of success or performances which suggested a positive experience.
Whilst some teams would have left the event happier than others, there are still positives to be seen in all team'ss performances in London. Following is a team by team review of performance, based onmatch results and final positions.
Men's Draw
Denmark – Six games for six wins. An almost faultless performance by the Danish team, which included wins against Croatia (twice), Ireland and Wales en route to the title. Didn't compete at Bordeaux, but vanquished the demons of 2012 when they lost the final in Edinburgh by just one point to Ireland. A great performance.
Croatia – Four wins and two loses for the Knights was a great return which saw then improve on Bordeaux (third place) by reaching the grand final. Both losses were to the eventual winners – Denmark – but along the way had strong wins against Germany and a narrow three point win against England. Whilst disappointed to lose final, would be proud of their overall performance.
Ireland – One could make an argument that the luck of the Irish deserted them. After a narrow dumping from the finals in Bordeaux (they did win the Euro Bowl), this year's team lost just one match, to finish with more overall wins that Croatia. But the loss was a 39 point hiding in the semi-final against Denmark. Still, overall third place is a good result, and an improvement on Bordeaux.
Germany – Returning to the event after missing in Bordeaux, the Black eagles came back in London with a strong performance. Winning their first four matches, the team only faltered at the semi-finals stage when they suffered losses to Croatia and the battle for 3rd and 4th place to Ireland. Wins against France and Italy showed their effort was no fluke and they deserved fourth place.
England – Took sixth place in the event, winning all preliminary rounds to top their pool before dropping a game to the Croatians by a narrow three points with last kick of the match. That was enough to keep them out of the top four. Might feel disappointed, but powered to wins against lowly sides and fought it out twice with a resurgent Welsh team for one win and one loss. Injuries also hurt chances.
Wales – Returning to the Euro Cup, the Welsh were dogged and earned fifth placing, their highest ever Euro finishing position. Two crushing wins in the preliminary rounds, before playing out narrow losses to England and Denmark. In their final match they defeated England convincigly in the battle for fifth place. Overall, a strong return to the Euro Cup for Wales and something positive to build on for 2015.
Sweden – Three wins for the tournament saw the Swedes take out seventh place at the event. Along the way they dispatched Norway, Scotland and Italy, and going down to Ireland (3rd) and Germany (4th). Fresh from their efforts in Australia at the IC14, Sweden should be pleased with their return to the Euro action after missing in Bordeaux.
Italy – On face value the Italians dropped away after Bordeaux (4th). But their two wins against Netherlands and France were sound, and the losses included a close defeat to Germany before two in the finals run against Ireland and Sweden. Still have positives to take away from the event to build on for 2015.
France – To drop to ninth place this year after being runners-up in Bordeaux last year, the French may feel a little disappointed. But they did win the Euro Bowl, defeating Austria to do so, and also enjoyed wins against Scotland and Netherlands. Their losses were also narrow, going down to Germany (6 points) and Italy (8 points). Many positives again for the French in London.
Austria – No matter how you look at it, Austria improved on their 201r4 showing in Bordeaux. After winning the Euro Plate last year, finishing in ninth spot, they were runners-up this year in the Euro Bowl. That is a step up. Big wins at the expense of Catalunya and Crusaders, and a narrow loss to France for the Euro Bowl showed the team has plenty to offer for coming years.
Scotland – A sound re-entry to the Euro Cup after missing Bordeaux. Solid wins against Norway and Crusaders, as well as a narrow loss to Sweden by just 12 points, showed the Scottish team had plenty of spirit. Will benefit from this event and build strongly for 2015, especially with a proliferation of new Scottish club teams to draw from.
Crusaders – Just the one win from the event against Spain, and a series of heavy losses, but the Crusaders team plays an important role at the Euro Cup. The team gives an opportunity for other players to play at the event that may or may not have played with another team. Any win is just icing on that opportunity, and they did enjoy some success.
Norway – Three losses in their preliminary games was a tough start to this event, going down to Ireland, Sweden and Scotland. But they powered home in the finals stages to account for the Netherlands team by 13 points before trouncing Spain to win the Euro Plate. A very strong finish, and second Euro Plate for their ever-growing cabinet, means a productive event for Norway.
Spain – In some ways the Spanish team play a different role at this event. Regardless of results, the fact that Spain are involved is a massive positive as it keeps the Aussie Rules flag flying in Spain. So to win a match against Catalunya, and play off to be runner-up in the Euro Plate, mark huge steps for the future of Spanish footy.
Netherlands – Consecutive losses in their preliminary games against good opposition (France, Italy, Germany) before a narrow 13 point loss to Norway and a stirring win against Catalunya suggested a team that, whilst finishing in 15th place overall, managed to get better and gain confidence as the event went on. Certainly enough to suggest a modest return to the Euro Cup that mmay lead to bigger things in 2015.
Catalunya – This team is in an almost identical position to the Spanish team. Whilst they might have been the whipping boys for other teams on the scoreboard, the measure of their efforts is in the fact that they were competitive. In fact, their overall scores reflected a more competitive effort across the event than in Bordeaux last year. Again, like Spain, they are keeping the game alive in their home nation simply by being in London.
Women's Draw
Irish Banshees – A perfect five from five winning effort from the Irish girls. Tough wins against the England and Scotland teams as well as strong performances against Denmark and France saw them sail into the final as reed hot favourites. But they were pushed hard in the final, holding out the Vixens by just five points. Hammered home their title as the best women's team in Europe, and maybe beyond.
England Vixens – Three wins and a tough 16 point loss to the Banshees in thee round matches was a strong performance from the Vixens. Found themselves in the final as a result for a rematch with the all-conquering Banshees, and can count themselves unlucky after a brave five point loss in the final. A tremendous first up effort for the Vixens.
Scottish Sirens – Split their results with two wins and two losses in their first Euro Cup as a national team. Big wins against France and Denmark were tempered by brave efforts against Ireland and England. Certainly a huge effort on which to build a recruiting drive for bigger and better things in 2015.
Denmark Valkyries – Had to endure three heavy losses along the way, but the Danish girls managed a hard fought two point win against France. Whilst not a big win on paper, the result could yet translate into a positive recruiting poster for next year as the girls will have gained experience and belief in London. Will be bolstered by the men's perforrmance also which might help in recruitment.
France Les Gauloises – Endured a tough tournament but the girls from France fought out every match. Unlucky to lose their match against Denmark by just two points. Will go back home knowing that the women's footy scene has been taken to a new level with number of teams and standards, but now possessing an experiences nucleus of a team to challenge in years to come.