Axios Euro Cup – Something for everyone in Bordeaux
Sunday, September 22 2013 @ 09:05 am ACST
Contributed by: Wesley Hull
Views: 3,377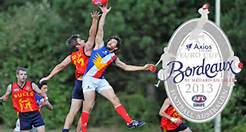 With the Euro Cup finished for another year, some teams are going home happy, some disappointed. That is the nature of any competitive sport. However, the individual performances can probably only be truly measured against the expectations of the teams themselves. In subsequent articles this may become more clear, however our starting point for a review is based on a cold, hard statistical analysis of results.
Below is a nation by nation look at performances. As an exercise, anyone interested in how this sits with the teams' hopes can read the series of preview articles published over the past few weeks, where nations listed their goals for the Axios Euro Cup.
England:
Tournament winners, and deservingly so. England remained undefeated for the tournament. Comfortable wins in the round matches, and eventually in the final, though they were lucky to survive a scare in their 6 point win against Croatia in the semi-final. A very thorough and determined performance from the Dragonslayers, and deserved champions.
France:
A tremendous effort by the host nation to reach the final and become runners-up to the clinical English team. A tough 15 point win against the underrated Norwegian team was followed by perhaps the upset of the tournament when they defeated the reigning champions, Ireland, by just 1 point. A tough slog against Italy saw a 19 point win before going down in the final. After winning the Euro Bowl and 5th place last year, the French have improved enormously to finish second this year in a boost for French football.
Croatia:
Did almost everything right, and unlucky not to finish higher. A big win against the Crusaders, and a tougher victory against Finland in the round matches was a solid start. Lost by a solitary goal to England before convincingly beating Italy in the battle for third place. Possibly disappointed that they didn't finish higher, the Croatian Knights should be proud of their performance.
Italy:
Two impressive wins against Austria and Spain in the round matches was a good start for the Italian team. Lost remaining games to the two sides that eventually finished second and third, kicking the highest losing scores of those rounds in the process. This was proof that they were a tough side with a never say die attitude. They didn't win the tournament as they might have hoped, but certainly played four tough, entertaining matches.
Ireland:
The Warriors won their games against Finland (by 12 goals), Spain (by 12 goals) and Norway (by 11 goals). But their one point loss in an upset to France consigned the Irish team to fighting for the Euro Bowl instead of the Euro Cup, which they did go on to win. Will possibly see this as a disappointing result, but this was an impressive, and at times devastating, effort over the four games nonetheless. Will be driven to greater heights next year.
Finland:
The Icebreakers thumped the Crusaders and lost to the Croatians in their round matches. A huge win over Iceland followed before being run over by a revenge seeking Irish team in the battle for the Euro Cup. Overall their 6th place result is their best since 2008, so the Finland team would be pleased with their performance in Bordeaux.
Spain:
A solid win over Austria coupled with a fighting loss to Italy saw Spain earn immediate respect in the round matches. A heavy loss to a marauding Irish team was followed by another strong win over Iceland for a 50/50 return at the tournament. Dani Ribas had stated pre-tournament that they wanted to finish between 4th and 7th and win 2 games. Mission accomplished, and a great result for a side that spends little time together and less time playing at an international level.
Iceland:
The Ravens started the tournament in fine style with a big win against Catalunya, then a heavy loss to eventual tournament winners, England, in the pool matches. Losses to Spain and Finland consigned Iceland to an 8th placing. In one sense, Iceland have stayed much the same as last year on win/loss ratio, but 8th position is their best ever result in this tournament, so overall Iceland can take great pride and heart from their efforts.
Austria:
The Avalanche took a while to rumble into action with losses to two tough competitors in Spain and Italy during the round matches. Persistence is a great virtue, however, and the Austrian team found great fight to hold out Norway by five points in the semi-final round before defeating the unpredictable Crusaders narrowly to win the Euro Plate. They may not have clawed out of the lower rungs of the ladder as hoped, but the Euro Plate will look good in their display cabinet.
European Crusaders:
Two heavy losses to Finland and Croatia in the round matches suggested that the Crusaders might simply make up the numbers at Bordeaux. But a 71 point win against Catalunya was enough for them to challenge for the Euro Plate where they pushed Austria right to the end, losing the Plate final by just seven points. Certainly must have been a thrill for their players to finish the tournament so strongly.
Norway:
Having arguably the toughest draw, Norway's tournament started with two losses to host nation, and eventual runner-up, France as well as reigning title holder, Ireland. A heartbreaking 5 point loss to Austria prevented Norway from taking out back to back Euro Plates, but a nine goal hammering of Catalunya was a good way to finish the event and stay clear of last place. They may not have equalled or exceeded last year's efforts as hoped, but they were competitive against good teams and have certainly developed talent ready for next year's International Cup in Melbourne.
Catalunya:
Four heavy losses might suggest that the Catalunya team campaign was unsuccessful, yet their 12th placing is their best since 2008, albeit with a number of nations missing this year. But the measure of success for this squad was their ability to simply be at the event and expose their players to international footy again. If that effort can translate to more interest and more players, then the tournament will have been a huge success.