New Zealand Prime Minister - We want an AFL club
Friday, April 26 2013 @ 08:20 pm ACST
Contributed by: Brett Northey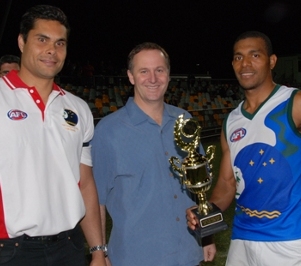 For the many of us who dream of Australian football expanding more rapidly internationally there can be no doubt what would most accelerate the growth in any given country - having their own AFL club. So it was unexpected music to our ears to hear (or in fact read) the New Zealand Prime Minister John Key declare that his country should have an AFL side.
The comment came at an official function prior to the St Kilda - Sydney match in Wellington. Key said the unique relationship between the countries, coupled with a fierce mutual sporting rivalry, made the concept a perfect platform for the Australian game.

''Let's get real,'' he said. ''We've got to get a New Zealand side in the AFL. We've got the Breakers and we've got the Warriors - well, they've been struggling a bit lately - we need our own AFL team.''

Also present was Australia's Minister for Sport, Kate Lundy, and AFL CEO Andrew Demetriou, who was quoted only as saying that he planned to ''have a chat'' with Key at a later date.

Of course Australia and New Zealand have very close ties, and Prime Minister Key has been exposed to Aussie Rules previously, including at the Pacific Islands Forum four years ago in Cairns when the AFL staged a match between a Pacific Islands side and a North Queensland All Stars team. Key is pictured here with former Brisbane Lions great Mal Michael and the Pacific Islands captain, Donald Barry (PNG).

Demetriou described New Zealand as ''unquestionably our fastest growth market outside Australia'', and congratulated Anzac Day host St Kilda for its vision. The AFL's number two, Gillon McLachlan, has also alluded to a possible future in which the Kiwis have their own club. But the impression was that any such outcome would be 20+ years down the track and only after a lot of ground work. However, when the leader of a country talks, surely the AFL will keenly listen.

If no current clubs fold, merge or are prepared to move, then this author would delight in seeing 19th and 20th clubs enter the AFL in the next 15 years - namely Tasmania and one from New Zealand (be it targeted country wide or at a specific city such as Wellington or Auckland). One of two main stumbling blocks in both cases would appear to be where to stage games. In Tasmania's case the small population is split between north and south, however with two stadiums now upgraded to AFL standard and in regular use by Hawthorn and North Melbourne that issue has abated and a Tassie team could play games at both. In the Kiwi case Auckland has the population but Wellington has the most appropriate stadium. But again, if the NZ PM is serious, upgrading a stadium would be a relatively modest issue. The other difficult issue is the success or otherwise of the recent expansion clubs Gold Coast Suns and GWS Giants. If they continue to struggle and drain the AFL coffers then bold plans may be far from the AFL Commission's thoughts. On field success will come, but off field, truthfully no one knows.
So there are many factors that will dictate the future course of the sport in New Zealand - the vision of the AFL Commission, the success of subsequent Wellington matches, the uptake amongst possible young players, the health of the Suns and the Giants, and the political imperatives on both sides of the Ditch. But suddenly in April 2013 the future looks tantalisingly closer than it did just 12 months ago.
Comments (0)
---
World Footy News
http://www.worldfootynews.com/article.php/20130426222014817