Youth focus continues in South Africa
Sunday, January 13 2013 @ 09:35 pm ACDT
Contributed by: Brett Northey
Views: 1,557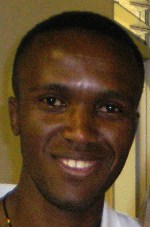 Back in 2009 we quoted AFL South Africa data showing 17,000 participants in Australian football in that country. But at the time the body had just undergone major expansion to cover four provinces and was switching instead to a consolidation mode to ensure the program was sustainable. Although completely understandable it was still probably not what international footy fans wanted to hear, always keen to see numbers growing rapidly.
It seems that 2012 was a period of expansion again with numbers up to 20,000. And AFL South Africa National Participation Manager July Machethe (pictured) has told worldfootynews.com that the aim by 2016 is 30,000 participants. Note that this includes the all-important umpires and school based mass participation programs. Machethe has provided a breakdown of the 2012 numbers into different categories, as shown below.
Another area of interest is tracking senior footy and club development. In terms of developing an adult footprint and really entrenching the game then long term that will be key. We also saw back in 2009 how quickly players developed when exposed to regular football in Western Cape when a six team league was run and the province suddenly lept to national champion status. Machethe comments on progress so far to establish more opportunities like that.
Further news is that Australian Anthony "Joel" Kelly, AFL South Africa's National Operations Manager for the last 5 years, has moved on with a replacement expected to be announced this month and quite likely to be a South Africa.
July Machethe explained that South Africa remains a key market for the AFL and that juniors are still their focus, with the FootyWILD BIG 5 (analogous to Auskick in Australia) the primary source of numbers. But of course to develop adult footy and elite talent some of these children need to progress into what could be called "youth footy" and then senior footy. Machethe provided the following:
South Africa has been tagged as mass participation market, so majority of growth has been targeted at 7-13 year olds through footyWILD BIG 5, unlike other markets which focus more on adult competitions.
By 2016 SA aims to have more than 30,000 participants
With progression of kids into senior footy and club development – there's a clear focus in next 5 years to convert more BIG 5 participants into youth footy market through school and club-based AFL 9's and added to that we have a Geminder Youth Academy which is important incentive for youth footy development. This Academy has been active since beginning of 2012 and was a great success.
Specifically on creating adult football clubs and leagues allowing regular competition, thus replicating the success of the six clubs formed in Western Cape, it was disappointing to learn that the league had shrunk. Better news was that something similar had at least been generated for all four active provinces. Machethe again:

"With regard to the Western Cape Teams – there's only 3 teams remaining from the initial competition – teams merged to form just 3 teams. This was purely because there was a challenge to recruit new senior players every year as they leave for studies, work or other responsibilities hence we recently have a strong focus to develop youth footy so that it ultimately feeds onto the Extreme (senior) competitions so that the other teams can see daylight again.
"The ground is much more levelled as far as North West used to dominate – all provinces have equal opportunity to compete. We have local competitions in four of our provinces mainly for Extreme and Youth teams whereby they play every weekend and 2nd weekend at minimum. We still have centres especially in the North West far apart from each other and yes to some extent it makes it more difficult to reach the full potential of the competitions to run effectively".

Also outlined was a new format for the National Championships:

"We also have a new format of the National Championships whereby the championships are played over a period of 6 months instead of just a week. The provincial teams plays each other once with the fixtures spread across the 6 months. We will have 2 games taking place on the same day but one played in Cape Town and other in Jo'burg. This is a 3 rounds fixture and the finals week is played in September around the AFL Grand Final Week".
So what do the roughly 20,000 participants consist of? Many thanks to AFL South Africa for providing all the details.
| | | | |
| --- | --- | --- | --- |
| Program/Group | Male (%) | Female (%) | Participants |
| FootyWILD Big 5 Primary (7-13 years) | 47 | 53 | 18842 |
| FootyWILD Big 5 Game Day ** | | | 7200 ** |
| FootyWILD High school (Youth) | 86 | 14 | 646 |
| FootyWILD Extreme (Open) | 98 | 2 | 397 |
| FootyWILD Umpires | 13 | 87 | 97 |
| FootyWILD Volunteer Coaches | 70 | 30 | 274 |
| Total | | | 20256 |
** Drawn from FootyWILD Big 5 Primary schools and so already counted and thus not included in the total.
Clearly most of the focus is on primary school aged children, but with growing numbers in high schools. Interestingly a very good exposure to girls early on but drops off dramatically, however females are obviously crucial to the program through their umpiring.
To understand just how much footy the kids are exposed to we asked Machethe for more details. There are 18 FootyWILD centres across South Africa.

"A centre consist of 4 primary schools which forms part of the footyWILD Big 5 program, 2 high schools that forms part of the footyWILD High and 1 Open age team which forms part of the footyWILD Extreme. A footyWILD Big 5 session (for primary schools) is a set up of 5 stations (kicking – marking – evasive – handball – small Game). Each school attend a 90 minutes session per week between Monday & Thursday and on Fridays all schools come together for Game Day which is a mini league between schools whereby 25 kids per school are selected to play and represent their respective schools. It runs for 6 weeks per age group for 7 year olds, 8-9 year olds and 10-11 year olds. As for 12-13 year olds it runs for 8 weeks.

" A footyWILD High Session is a set of normal training session which runs for 90 minutes whereby each school practice twice a week and play games on weekends. It runs from April – September. Only break for winter school holidays. Same set up for footyWILD Extreme (open age)".
And of course the key to all this is having staff and volunteers to run the show.
"Our volunteers (72) will volunteer for 6 months starting from April – September working throughout the programs. They get a monthly stipend of R500pp. each centre has 4 volunteer of which each volunteer is assigned his own school to look after for the duration of the program in a year. Though because only one school attend a session at each day e.g. Monday will be "Melbourne Primary School" footyWILD sessions day – all 4 volunteers work together to deliver the sessions with the help of our development coordinators and teachers but they take the lead. On Friday Game days they will then stand alone as they will be preparing and coaching their own 25 players school team competing in the mini league which there's a trophy and medals at stake."
And on a final pleasing note Machethe confirmed what many have been hoping for - that AFL South Africa intend expanding into two further provinces, not immediately but relatively soon.
"With regard to expansion to the provinces within South Africa – we are also still trying to consolidate the program where we have base and as soon as we are comfortable we will move to other provinces. It will be soon maybe in the next 2 years we will target 2 new provinces based on what we think will support our program i.e. access to cricket grounds, sponsors, population, cluster of schools or communities and the distance".

Many thanks to AFL South Africa and July Machethe. That gives a very detailed update on the state of football in South Africa. It will be fascinating to see if they can ensure the Youth and Extreme (open) numbers steadily swell over the next few years. Very best wishes for such an important stage.