Western Cape shows the way for AFL South Africa
Sunday, December 27 2009 @ 07:42 am ACDT
Contributed by: Brett Northey
Views: 7,039

The Western Cape Province of South Africa has quickly risen from having no Aussie Rules players to recently winning the 2009 National Provincial Championships (see Western Cape - new chiefs of African footy?). With all four of the country's active football provinces now benefiting from AFL and AFL club support, how is it that Western Cape has leap-frogged the more established regions of North West and Gauteng, along with fellow newcomers KwaZulu-Natal? worldfootynews.com poses a simple theory.
It seems that a key may be a regular active league. Back in 2007 junior development was underway but a decision was made to fast-track plans and get two open age sides started. Soon Nyanga and Khayelitsha were up and competing.
It didn't stop there. In 2008 the competition consisted of four sides:

Nyanga Bluebirds
Nyanga Thunderstorm
Khayelitsha Divines
Khayelitsha Real Kangaroos
and then in 2009 it grew with the addition of two further teams:

Mitchell Plains Warriors
Gugulethu Cheetahs
For fans and players in Australia, having a local league with weekly competition is often an unappreciated luxury. It's only when you get to country areas that people sometimes have to travel long distances for a game of footy. In many other countries that remains the case, with few cities featuring well established leagues.
In South Africa the situation is exacerbated by many of the players having little means of transport. This makes it hard for organisers in areas like North West province to provide their players with a regular league. The answer of course lies in getting enough junior numbers so that eventually even smaller cities can have many teams. But in fairly lowly populated areas like much of North West, there will still always be issues.
The Western Cape set up is different. Cape Town as whole has a population of around 3.5 million and Khayelitsha in the Cape Flats area has approximately 2 million residents. We spoke to AFL South Africa's Joel Kelly, and he explained that the six senior teams of Western Cape are "about 20 to 30 minutes drive apart at the furthest point". This allows organisers to stage a weekly competition of 12 rounds plus finals, which "includes a mid-year break of four weeks when the weather is pretty ordinary".
The league is also a full 18-a-side competition, and with players getting exposed to 12 to 15 full games in a season, surely this is the secret to their success. For all the training a player can get, unless it's akin to the intense match simulation available at AFL level, then nothing beats week-in and week-out matches. It's also possible there could be some physique differences between the average player from each province, but we haven't been able to determine that yet.
The teams in the Cape league also provide a ready pathway for the many youngsters in the FootyWILD junior programs, and thought has been given to aligning some junior clubs with the seniors in 2010. Exciting times for Australian football in South Africa, and it seems especially so in Western Cape.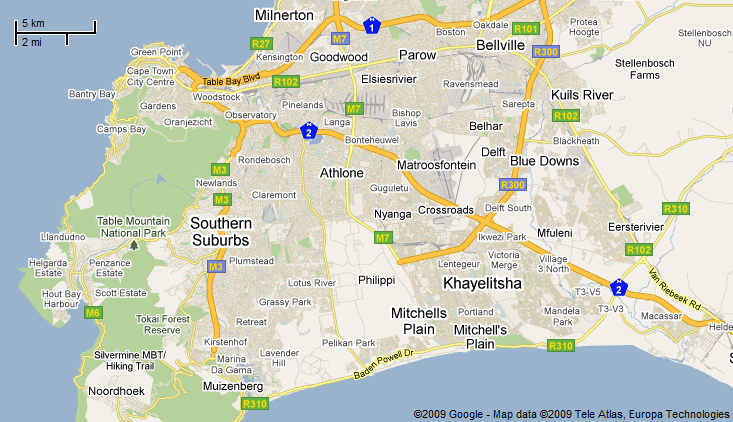 Map of Cape Town, including the regions of the six clubs, Nyanga, Khayelitsha, Mitchell Plains and Gugulethu.