2012 Grand Final Parties around the world (updated)
Thursday, September 27 2012 @ 06:58 am ACST
Contributed by: Troy Thompson
Views: 5,215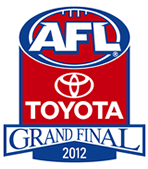 Hawthorn and Sydney will battle it out this Saturday for the 2012 AFL title.
Every year since 2005 World Footy News has displayed an extensive list of Grand Final Parties around the world. And with finals starting this week we once again call for clubs around the world to send details of your party so that fans of the game in your city can watch the big game with you.
You can either post details as a comment below (you must register before you are able to post a comment) or email troy@worldfootynews.com - all these details will be collated as per previous years.
ASIA
Borneo, Indonesia
Borneo Bears Grand Final Party
29th September 2012 at 10:30am.
LeGrandeur Hotel Jalan Jenderal Sudirman 76114 0542 420155 Balikpapan Indonesia
Brunei
Saturday 29th September 2012 at 11am.
Lot 4843 Simpang 109 Jalan Maulana Kuala Belait Brunei Darussalam
Big Brunei 'Oz SPORTZ' AFL Grand Final bash a famous Australian Tradition.
- Free Entry from 11am
- Wear your club/oz colours
- Childrens Waterslide and activities
- Prizes and Sweeps
- Auskick clinic on sit
- Sausage Sizzle and drinks
- Live coverage from the MCG
- All AFL tragics welcome
Big Brunei 'Oz SPORTZ' AFL Grand Final bash a famous Australian Tradition.

- Free Entry from 11am
- Wear your club/oz colours
- Childrens Waterslide and activities
- Prizes and Sweeps
- Auskick clinic on sit
- Sausage Sizzle and drinks
- Live coverage from the MCG
- All AFL tragics welcome
Contact: Ozsportztickets@gmail.com

Mumbai, India
Grand Hyatt Western Express Hwy Mumbai, MH 400055, India
September 29th 9:30am
RS2000 per head, plenty of food, footy pies and drinks.
Osaka, Japan
2-1-5 Dotonbori Chuo-ku Osaka Japan
Saturday 29th September 2012 at 1pm
Happy hour prices all day 13:00 to 17:00. Coopers and VB beers - 450 yen
Shanghai, China
Shanghai Tigers 2012 AFL Grand Final Party
The Camel Sports Bar, 1 Yue Yang Road, Puxi
Saturday 29th September 2012, Happy Hour Australian Beers from 11am
Raffles, prizes and memorabilia action with all proceeds supporting AFL China.
Singapore
Singapore Wombats and ANZA Grand Final Party
Concorde Hotel - 100 Orchard Road Singapore
Sat 29th September at 10:30am
Details: Ticket includes...Free flow beer/wine/soft drink, all day hotel brunch
Guest appearances from john Platten and other past players. Coach transfer to the official after party
Children's face painting, Grand Final Footy Record, Fabfoto booth AFL Fun Pics
DOOR SALES AVAILABLE AT THE VENUE ON THE DAY BUT WE STRONGLY ADVISE TO BOOK IN
ADVANCE
.
Tickets are now available for purchase closing date for online bookings is 27/9/12.
Tickets cost $120.00 for ANZA members, $150.00 for non members. Kids Age 4 - 11: $50, Age 12-17: $75
Athens, Greece
Athens Sports Bar - Veikou 3A, Kookaki 117-42, Athens.September 29th at 6:30am. The only Aussie Pub in Greece. We'll be doing the traditional sausage sizzle super cheap drinks and a half time kick to kick. LIVE, All ages Ph: +30 210 923 5811
http://www.athenssportsbar.gr/
Leeds, UK
Leeds Minotaurs Grand Final Party
Saturday 29th September 4.30am @ Leeds Walkabout 67-83 Cookridge St, Leeds UK
London, UK
Putney Magpies AFL Grand Final Party 2012 - @ 5:30am (doors open from 5am)
At the Larrik Inn, Fulham. 425 New King's Rd London, Greater London, SW6 4RN - Tickets 10 pounds
Moscow, Russia
September 29th at 8:00am
Hudson Bar 10 Butersky Val Moscow Russian Federation
AFL Grand Final 2012 Party - Croatia Friday 29th September 2012
Venue: Old Pharmacy Pub. Address: Hebrangova 11, Zagreb, Croatia
Pub opens at 5:30 am, game starts at 6:30 am
(please look at footycroatia.com a few days before this event to confirm exact times)
First 30 people get 1 free coffee and 1 free beer.Light Continental breakfast provided (limited quantities).
Croatian footy players will be attending the event, just week after (hopefully successful) Euro Cup in Edinburgh.

NORTH AMERICA
Atlanta, GA, USA
Atlanta Kookaburras - AFL Grand Final live broadcast at The Whitehall Tavern 2391 Peachtree Rd, Atlanta GA 30305.
Friday, September 28th @ 10:00pm EDT
Austin, TX, USA
Where: HYATT REGENCY DOWNTOWN 208 Barton Springs Road • Austin
When: Friday, September 28th @ 10:00pm EDT
$25 p/head – includes food and discounted beer. Crows are happy to announce the AFL Grand Final will once again be shown Live at the Hyatt Regency Downtown Austin. The Hyatt will be the only venue in Austin showing the Grand Final.
Chicago, IL, USA
Chicago Swans Grand Final Party - Brownstone Tavern on Friday September 28th kicking off at 9pm (game starts 11pm).
The Chicago Swans are once again hosting the AFL Grand Final party. Tickets are $20 per person and include drink and food specials. The Qantas/Chicago AFL Raffle will also be drawn this night so be sure to purchase your tickets for the chance to win 2 return tickets to Australia.
When: THIS FRIDAY Sept. 28th @
9:30pm (Game start time just after 11pm) finish around 2:15am
Where: Nodding Donkey @ 5600 SMU Blvd. #120, Dallas, Texas 75206 (by Mockingbird & 75)
Donation: A $10 donation at entry is appreciated to help the team get to Ohio for the National Tournament October 12-13.
There will be food and drinks for sale so come along and support your favorite team!
Fort Lauderdale, FL, USA
Ft Lauderdale Fighting Squids Aussie Rules Club - Grand Final Party 2012
Friday 28 September, 2012 - 10.30pm til late (Game Time 12.30am)
Venue: Maguire's Hill 16 Irish Pub, 535 North Andrews Ave. Fort Lauderdale, FL 33301 Tel: 954-764-4453
Everyone is welcome to join in the fun at South Florida's social event of the year: The AFL Grand Final Party hosted for the 8th year by the famous Fort Lauderdale "Fighting Squids". Guaranteed fun atmosphere, with 4 large flat screen TV's.
Entry Donation (helps the footy club): $10 for 2012 members, $20 for guys and free for girls.
http://fightingsquids.com
or
info@fightingsquids.com
Houston, TX, USA
Friday 28 September, 2012 - 8.30pm til late (Game Time 12.30am)
The Firkin & Phoenix Pub, 1915 Westheimer Rd. Houston, TX 77098
Los Angeles, CA, USA
Los Angeles Dragons 2012 Grand Final Party at South Sports Bar
3001 Wilshire Blvd, Santa Monica
**
NO COVER CHARGE
**TONS OF HD TVS**DRINK SPECIALS**RAFFLE
GAME COVERAGE STARTING APPROX. 9PM
ANNUAL CLUB FUND-RAISER DONATIONS WELCOME
New York, New York, USA
NY Magpies
. Where:Galway Hooker 7 E. 36th St.
When: Friday 28th September. Doors open at 10pm for the pre-game entertainment with the game to follow on a 12'x9' HD projection screen and 14 plasma TV's over 2 floors.
$20 per ticket or 6 for $100 includes live game with sound on all TV's in the venue (including the big screen), drink specials, prizes, games and giveaways.
Purchase your tickets from
www.nyfooty.com

212-725-2353.
. The Galway Hooker has tables available for reservation for groups of 8 or more. To reserve a table after purchasing your tickets online contact Kaitlin at the Galway Hooker
Philadelphia, PA, USA
Philadelphia Hawks GF Party. Friday September 28, 10pm
Portland OR, USA
When:
Friday, September 28th
. Dinner starts at
7:00pm
, the Grand Final begins at 9:30.
Where:
Buffalo Gap Saloon & Eatery
(
map
)
Tickets to the Grand Final night are $10 each and can be purchased online via Paypal
at our website
, or at the door. We will also be holding a raffle at the event. The Grand Final party is a major part of our fundraising for the USAFL Nationals tournament, so bring your family and friends and help send the boys off right.
Montreal, QC, Canada

Note change of venue due to popularity!
AFL Quebec 2012 Grand Final Party
When: from 9pm on Friday 28th Sept
Where: The Forum Sports Bar, 2313 rue Ste-Catherine O (4th floor - Cnr Atwater), Montreal, QC H3H1N2
Everyone welcome to attend. We will have the game live in HD on a big screen + 13 other TVs. Drink specials on the night. No cover charge. Come on down and meet some other Aussies & footy supporters!
Toronto, OT, Canada
Friday September 28th match starting at midnight.
Toronto Dingos Football Club will be hosting their 17th annual AFL Grand Final party at St.Clair's Sport Centre Café.
49 St Clair Ave West, Doors open 9pm - match starts at Midnight.
This year make sure you come early to get the best seat!
$10
entry
and a chance to
win door prizes
, while
classic raffles
like
the first-goal kicker
will also be available. On top of it all, a seperate raffle (with tickets available now!) for a
32GB New iPad
(WIFI plus Cellular) grand prize valued at
$850
will be run, with the winner drawn at half-time.
OCEANIA
Auckland, New Zealand
Where: Empire Tavern, 137 Victoria St, West Auckland, NZ.
When: 29th September 2012 4:00 pm.
Entry: There is no cost for admission. Under 18's welcome with a guardian as per normal licensed venue rules. The Uni Blues' social events are always all-inclusive affairs. So please spread the word and bring your mates, wives, girlfriends, children, parents, workmates, Pilates instructors, bus drivers, or anybody else that likes great sport, great banter, and a great day out.
Port Moresby, PNG
AFL PNG fundraiser. Aviat Pub, Aviat St, Konedobu, Port Moresby
Saturday 29th September at 1:30pm.
Big Screens 100 Kina entrance. Beer, Wine and Food included. Raffles on the day.
Contact aviat_reception@datec.net.pg
Vanuatu
Moorings Hotel, Port Vila, Vanuatu
Saturday 29th September 1pm
Free admission, Happy Hour drink specials from 1pm - 7pm. 300 vatu Beer and Wine. 2 bars.
Competitions and prizes during half time. BQ lunch on the beach. AFL face painting. 4 big screens to watch the game!
Please note: The information is entered here in good faith.

worldfootynews.com

is not responsible for any incorrect information posted to this story. Wherever possible attempt to check ahead to make sure the party you are planning on attending is still going ahead and has room for you. There have been cases of sell outs and late changes e.g. when a venue could not secure a telecast.
---
For the fourth year in a row the AFL website will also have their Overseas Grand Final Party Finder on the AFL website for international fans to register the details of their Grand Final celebrations – including where and when they'll watch your broadcasts of the big game!
The link is http://www.afl.com.au/TVRadio/OverseasGFPartyFinder/tabid/14881/Default.aspx
Everyone who registers at the AFL website will go into a database where the details of their event will become visible on the map-finder feature. The map-finder enables fans to zoom in on their area of the globe and be given details of all the parties being held in their area.
As per 2011, everyone who registers their event in the AFL website's Party Finder will go into the draw to win a fantastic 2012 AFL Premiers Lithograph, signed by the captain and coach of the winning team and valued at $595.00 AUD.
---
The following footage we found from a Grand Final party in Ulan Bator last year. So you never know where you might find a venue.