Monday, March 10 2014 @ 10:11 PM CST
Contributed by: Harley Vague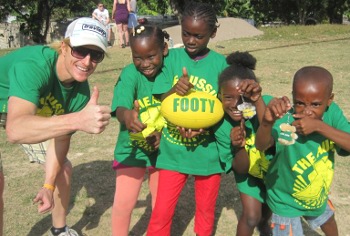 Some of us, like me, are frustrated that we cannot do enough for the development of Australian Football. Well, here's the chance to do something incredibly simple.

We were all excited by the Renee Tong story where she (eventually) won $10,000 to enable her to contest the 2014 AFL International Cup to be played in this August in Melbourne.
Now, we have Aussie X with a chance to win $50,000 to run their sports programs in Southern Toronto.Aussie X came to prominence when they won backing in the TV program "The Dragon's Den".

Since then they have brought Australian Rules Football, cricket and netball to Toronto, Vancouver, Calagry and London. Aussie X were instrumental in establishing a junior AFL in Toronto. Now they have a chance to do the same in Southern Toronto. There is more information at this link. All you have to do is "Like" their video.