Saturday, November 22 2014 @ 11:20 PM ACDT
Contributed by: Wesley Hull
Views: 310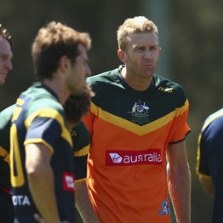 There was a great deal to like in tonight's International Rules test match between Australia and Ireland in Perth. The 10 point result would have pleased Australians, as would the huge Paterson's Stadium crowd. No doubt the Irish fans, whilst disappointed by the result, would have seen something special in the team's comeback and some outstanding individual performances.
But, from my vantage point I saw one outstanding aspect. Is Dustin Fletcher a new national sporting legend?
To put this question in some sort of perspective, Fletcher was not Australia's best player tonight. Luke Hodge and Sam Mitchell were outstanding, as was Nick Reiwoldt. Conor McManus was Ireland's best, but I did like some of the work from David Moran and Mattie Donnelly as well as former AFL player Colm Begley.