Friday, April 18 2014 @ 06:35 PM CST
Contributed by: Wesley Hull
Views: 270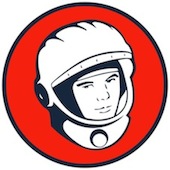 Who's the toughest footballer you ever saw? Leigh Matthews? Ted Whitten? Luke Hodge? Maybe it is Jonathan Brown. Well here's something which may sort the wheat from the chaff. How often did you see them play in temperatures of 7 degrees, with a chill factor that made it more like minus 7?
Well that's exactly what faced the tough, fearless and enthusiastic Russian players who competed in last weekend's Gagarin Cup in Moscow.
The event, named in honour of the Russian Cosmonaut Yuri Gagarin, the first man into space, was played in the Russian capital in front of a motivated, albeit teeth-chattering crowd. The event is also played on Cosmonaut Day, a national holiday observed in Russia. It is the largest Australian Rules showcase in the country, just tipping out the Concrete and Steel Cup played each September (2nd) to observe the anniversary of the end of World War Two (won last year by the Space Pirates).