Bakersfield kitted out and ready to play
Wednesday, October 19 2005 @ 01:31 am ACST
Contributed by: Brett Northey
Views: 3,493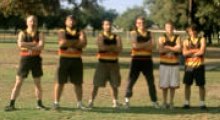 The Bakersfield Barbarians founder Leigh Hickling knew his Christmas had come early when the fledgling club's first set of jumpers arrived. All those well established around the world started somewhere, and maybe when those first Guernseys arrived was when they really felt that it was all really happening - or maybe that came the first time they copped a big bump. There's no doubt the uniforms look great and now the team awaits their imminent first game.
October 30th 2005 is the date for their historic first matches, with Orange County, the Inland Empire and Mojave Greens heading their way to help get started the new boys of Aussie footy California style.
Leigh is very grateful to the people at his club and to the network of footy people that helped secure the jumpers, from Greg Everett up in Canada, to Leigh's brother, and to Chris Olson, one of the men keen to help restructure the game on the US west coast after some hiccups in the last two seasons.
Of course not too much can be expected on their first big day. Let's just hope the Barbarians enjoy their day, make some new mates, and decide this game really is for them.
The story of Bakersfield is chronicled in our The Bakersfield Experiment section.