The Bakersfield Experiment
Australian Rules football has a long and successful history in Australia. Around the world the game has been much slower to take hold, but is now clearly doing so in several countries, with over 20 others starting to show promise too. The United States is one nation where the game has gone beyond the tenuous year to year situation in which an exodus of expat Australians could see the game disappear. But behind all the growth in the last 10 years, for any given city it usually (but not always) takes a keen Aussie to get the game started. Many such fledgling clubs start brightly but what next? In some cases they will become powerhouse clubs, the foundation from which large metro leagues emerge and support strong sides competing in interstate leagues. But in other cases they will slowly fade away. In hindsight we can look back and speculate where a club went wrong, or just wonder what could have been.
World Footy News has decided to follow the journey of a new club right from its very beginnings. In an ongoing series, we'll follow the highs and lows of a new team in US football. Check back periodically for updates. Will they get off the ground, where will they play, will they last, what help will they get? Welcome to the Bakersfield Experiment.

October 2002 - Australian Leigh Hickling travels to the US to meet his future wife. Leigh grew up in Melbourne, and played footy for his school and a local club. He even got as far as an invite from Robert Shaw to train with Fitzroy, at the time a member of the AFL, but other commitments prevented him. He also wasn't helped by knee problems. Once he had moved to the US, he and his new wife endured several hard years with illness in the family.
Mid 2003 - Leigh demonstrates footy at his step son's high school. This brings his attention to the idea of getting the game going locally.
Late 2004 - As life starts to improve for the couple in Bakersfield, California, Leigh starts to think more of his old sport, and looks to see what Aussie Rules is played in the US. First he comes across the AFANA website, but Leigh doesn't delve too deeply.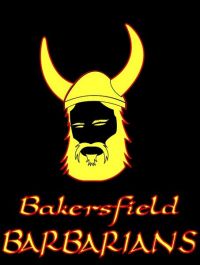 Early 2005 - Leigh finds the San Diego Lions, and on their forum it is suggested the new army side, the Mojave Greens, are his closest team. After contacting the Greens' founder, David Payne, Leigh soon finds himself with the offer to coach, as David will be leaving them in 2006. Unfortunately the Fort Irwin base proves to be too far away, over 3 hours by car, and Leigh declines.
Leigh contacts local newspaper to run a small ad to test the waters for local interest, but is pleased to find they'll do a full interview with him, which he describes as "awesome". His first response is from an American, Andrew, who fell in love with Australian football when in Australia years earlier. With three sons, he was keen to show them the game. Five more positive enquiries followed, boosting Leigh's enthusiasm.
10th April 2005 - First training - Leigh takes the next big step and organises a training session. Two other people show up, for a grand total of three.
17th April 2005 - Second training - The following weekend the numbers grow a little, including Andrew and his sons. Numbers then vary from week to week, and the sessions are started earlier and earlier to avoid the summer heat. Training typically involves a warm up kick then a small half field match on a soccer pitch, plus some skills sessions, being careful not to bore players with too much time away from playing. Leigh: "I have been very impressed by them all, considering alot of who we have playing, had never seen or heard of the game before, but they get out there and show some natural skills of footy."
June 2005 - Bakersfield have 14 players who have attended training, and quite a few more who are on the list, for a total of around 20 interested players. Many are under 18, which gives them plenty of time to learn the sport, but may make travelling less likely for now. Leigh is now an active member of the USAFL and Calfooty online forums, getting a feel for the US footy scene and ideas for running a club. His medium term plans are for "creating a small metro league within Bakersfield" and "creating a team to represent Bakersfield should a metro league get under way within California or the western region" and finally, longer term if all goes well, "create a team to represent Bakersfield for the main 18-22 per side league within the western region and other tournaments held in the US". He is under no illusions about the difficulties, but hopes to have metro running by the end of 2005. So far both the Mojave Greens and Orange County Bombers have made offers to play friendlies against or with the Bakersfield players.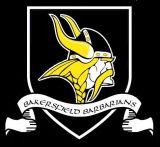 July 2005 - The Barbarians - Leigh completes the Bakersfield logo (above right). After much frustration he asked for assistance on the US Footy chat forum, and soon one of the good people at fellow start-up club the Minnesota Freeze had helped him out. Currently Bakersfield don't have a website but use an MSN group called bakersfieldfooty where people are making suggestions and finding out about the new club, officially now the Bakersfield Barbarians.
August 2005 - Talk of a metro league footy organisation being formed, based in California, called Major League Aussie Rules (mlar.net), sounds like a promising development for Bakersfield. Leigh produces a club newsletter to be emailed to players and supporters to keep them in touch. Includes news and photos from training sessions. Before their first game is even played the Barbarians lose a young talent off to study in Florida - perhaps the Redbacks will pick him up - such is the cycle of footy.
September 2005 - Plans for first matches - The Barbarian's nearest footballing neighbours, the OC Bombers and Inland Empire, agree to travel to Bakersfield on October 30th to play them in exhibitions matches. Support from other clubs is vital in growing the new side. A live band is planned for the big day, and a local TV station agrees to come to training to do a story. The hard work is starting to pay off, although availability of players for training continues to vary. The first "knockers" arrive on the USAFL chat forum suggesting Leigh isn't for real. Posters from other clubs are quick to encourage him. The club gets a new look to their logo (above right). One of OC's Australian players visits to take a skills training session, which Leigh feels immediately improves the kicking styles of many players.
October 2005 - Club debuts - Leigh knows it's really happening when the team's jumpers arrive (see Bakersfield kitted out and ready to play). The dream is realised as the team takes to the field, defeating a similarly new Mojave Greens squad. With several 9-a-side games played and a friendly day out for all involved the hard work has paid off. All the details of the day in Bakersfield Barbarians debut. The angle of having a father and his sons (the Rawicki family) playing in the same teams draws local media attention.
November 2005 - Planning for the future - With the North American season well and truly finishing, the Bakersfield players and volunteers sat down to discuss a strategy for 2006. It would appear the main emphasis was setting realistic goals, growing player numbers, and everyone taking responsibility to ensure the club's future - an important priority when so much often falls on so few. The key areas identified were:
Increasing player numbers
Securing sponsorship
Filling board positions
Attend tournaments - but probably not enter any leagues until numbers much stronger
Stage mini exhibition games at soccer and Rugby matches
Require yearly dues and registration with USFooty
All members to assist with recruiting more players
Longer term goal of a league within Bakersfield
January 2006 - Juniors? - With several younger players in the squad, although not enough for a full team (neither 18 or 9-a-side), Leigh discusses with Jeff Finsand from the San Fransisco area (formerly with the progressive GGAFL) about Jeff bringing some of his larger number of juniors up for a match.
February 2006 - Training resume for Season 2 - Training begins for the new year. Numbers are a bit down - maybe the novelty has worn off? An advantage is that Leigh can work more closely with players and two American, Jon and Wes, show dramatic improvement in their kicking techniques. Leigh resumes his weekly newsletter keeping players and supporters up-to-date. Leigh and Wes go on a roadtrip, travelling to Los Angeles to meet up with some players to then travel down to Phoenix for the (generally) annual Arizona Metro Footy Tournament. The LA boys (plus two Barbarians) had wins over Arizona 1, Nashville and San Diego, before losing to Arizona 2 in the Grand Final. Hopefully Bakersfield will be able to field their own team in 2007.

March 2006 - Support from Oz - Aussie Rules is a rapidly growing sport in Queensland and often people developing the game there are the most passionate about spreading the sport - they know the challenges. Bribie Island Junior AFL Club's Lyle Stacpoole, a follower of international footy including through WFN, contacted Leigh and have the pair looked into forming a sister club relationship.
April 2006 - Happy Birthday - The Barbarian club is one year old and come a long way. A great first year and some good signs for the year ahead, but will they get the numbers to consolidate and have regular games? Time will tell.
June 2006 - Bakersfield take a break - With founder Leigh Hickling busy in other aspects of life (yes, there is more to life than footy) and the hot Bakersfield summer sun beating down, the squad takes a break, hopefully to return to action in a few months.
December 2006 - Barbarians on hold - The club was in limbo for the second half of the year, with Leigh dealing with family health issues and life's assorted challenges. He hopes to get the club moving again in 2007 - see Barbarians on hold in 2006.



Last Updated: Wednesday, December 27 2006 @ 09:24 pm ACDT|Hits: 15,730