Tuesday, April 30 2013 @ 09:04 am ACST
Contributed by: Shane Hendrickson
Views: 2,704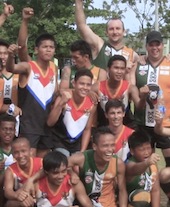 This ANZAC weekend proved to be a blockbuster for Australian football in Asia, with international East Asia Australian Football League (EAAFL) matches played in two countries, and many domestic matches played across the continent.
The Vietnam Swans hosted the Jakarta Bintangs in Vung Tau, while the Singapore Wombats hosted both the Malaysia Warriors and Cambodian Eagles. There were important domestic ANZAC matches played in Indonesia, Thailand, Japan and Philippines.
The Swans were defeated by the Bintangs in a close match at the old Lord Mayor's Oval in Vung Tau. The field is inside a greyhound racing track, but was the very same oval where Australian soldiers played footy during the Vietnam War. The significant event even attracted the presence of three Vietnam Veterans who had graced that very field in the 1960s.
Jakarta won the match 10.9 (69) to Vietnam's 8.11 (59), marking a win for Jakarta's first EAAFL match in front of over 500 spectators. This leaves Vietnam winless after their third EAAFL match.