Kathryn Hogg takes on US Women's Footy Portfolio
Thursday, April 28 2005 @ 12:58 am ACST
Contributed by: Troy Thompson
Views: 6,183

Back in 1980 Kathryn Hogg was watching ESPN like many others sports mad Americans and was being fed a diet of wrestling and Aussie Rules Footy (VFL) by the newcomer to US cable TV. Jump forward to 2003 and she again discovered football, now branded AFL on digital cable after not seeing it for some years. Given the positive moves made in sports by women in the past two decades she decided to see if women were playing Aussie Rules. Hogg has now taken on an official role with the USAFL and we talked with her about future plans.
Kathryn's early searches via the Internet threw up the Victorian Women's Football League and also on the net she found the USAFL site. Using the chat forums of the US site she suggested that a women's clinic should be held at the 2003 nationals. Leigh Swansborough of California saw that post and took it a step further to organize teams to play in the inaugural women's match in the US.
The Orange County Bombshells and an all comers team played in Kansas City in October 2003. The Bombshells ran out winners by 44 points. Kathryn has fond memories of the game where she played in the ruck for the Bombshells "I wouldn't have missed it for anything, the most memorable thing about the first women's match was just being part of something new, and I guess scoring the first goal in American women's footy". She relates how it compared to years of watching it on cable TV? "It's a lot different disposing cleanly in traffic, the pros of course make it all look so easy."
At the end of March this year USFooty announced that Kathryn had been elected to the board unanimously in the newly created position of Women's Portfolio with the intention of furthering the development of Women's Australian Football in North America. Kathryn is involved in many team sports but particular aspects about this game have drawn her to it "In general I like team field sports but I dislike offside rules. To me, Aussie rules, is the purest form of all the ball sports, you use your hands and feet, no offside, and the ball is always live. I'm an avid Ultimate player and Aussie Rules has a lot of the same speed of play and flow."
Women's footy is still in its infancy in the US, having had matches at the 2003 and 2004 Nationals and regular games in California. Kathryn's immediate goal for 2005 is to have an official women's division at nationals in October, with four teams competing in a 9-a-side format used for some time now in many men's "metro" tournaments in the US. Rule changes include tackling being restricted to 'wrapping up', with the tackled player not being taken to ground. This is to initially aide the recruitment of players who might be otherwise put off by thinking that the tackling is the same as American Football just without the pads. Kathryn concedes this will probably change in time "As the speed of the game increases, it becomes quite hard to wrap someone up without bringing her to the ground."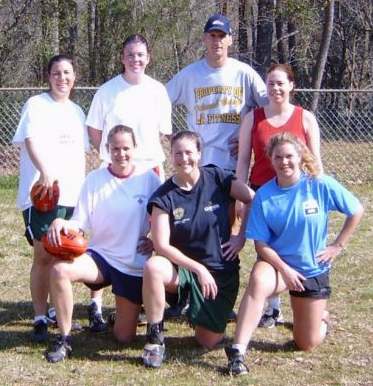 Bringing American women to play the game will be her challenge, "the most important thing is that it just looks fun! Athletic women will probably also play other sports so it works out well to market it as an off-season conditioning for their main sport." Support from local women's rugby clubs has been encouraging and they have indicated that they will direct their players to Aussie Rules when their season is completed in June.
It is expected that most women's teams will develop out of the existing men's teams, "You need someone who knows the game and can train new recruits." Kathryn hopes that all clubs serious about developing women's teams will have a page on their website, as well as links from and to http://womensfooty.com. She also feels that there may be a time in the future when a women's team may develop first in a city with a men's team following from this.
Currently there are teams in Minnesota (Morrigans), Milwaukee (UWM), California (OC Bombshells and Valley Vandolls) as well as Atlanta and Florida having women's team in the works and indications of interest from a few others. It is hoped that the official announcement of the women's division at nationals will see more teams forming.
Even though the women's game is in it's infancy, there is still an eye towards potential international football with a Queensland team possibly traveling to the US to play in the US Fall and potentially to be included in the Nationals tournament this year. In the longer term Kathryn's goals for women's footy in the US are to establish a stable competition in as many cities as possible, to have a corresponding nationals level for more committed players, and some form of international competition. In a future coming together of the sexes she says, "I'd also like to see co-ed recreational footy get a toehold in the US." Given the rise of men's Aussie Rules in the US in a relatively short time span there is great hope that the women's game can follow closely in its footsteps.
For further information go to womensfooty.com.