Get to know the Dog's pick no.19 out of Launceston
Saturday, January 27 2018 @ 08:26 pm ACDT
Contributed by: Tash Gunawardana
Views: 1,357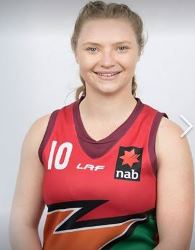 Tash Gunawardana interviewed the Western Bulldogs AFLW team's No. 19 draft pick Daria Bannister ahead of this week's opening round of the AFLW season.
When did you make the switch from Netball to AFL and why did you make this change?
I transitioned from netball to football in 2017. I played both sports for a year but with both being played on the weekend it became too hard so I decided to focus purely on football in 2017. I made the choice to play football because I loved the freedom and physicality of the game. I am a competitive person and I love the game style of football, the one on one aspect and the full team game. I have made some life-long friendships with people all over the country since taking up football and it has given me so many opportunities so far, I think I definitely made the right choice.
Last year you finished year 12, so have you chosen to do further study yet or will you just focus on your football career for now?
I received an email a week or so ago to say I have been accepted to study Nutritional Science at Deakin University, but I have decided to defer my studies for 2 years so that I can focus on football and then hopefully do some travelling in the off-season.
Tell me about the day you were drafted and how it felt?
Draft day there were so many mixed emotions. I tried to keep busy during the morning but the draft still felt like it took forever to start. I had some contact from a couple of Victorian clubs but nothing set in stone so it was a very nerve racking wait. I spent the draft at home with my partner and another friend and watched it on the TV. With so much talent around I did not expect my name to get called out that soon in the draft. When I heard my name I was just in complete shock. To have your dream come true in such a split second is so surreal.
Image Source: The Advocate
What has been the biggest change from playing Aussie Rules in Launceston to Melbourne so far?
The workload on and off the track and the support staff around the club has been the biggest change. It has been a big step up from playing in Launceston. My club back home have been fantastic and so supportive but nothing could prepare you for the change in to AFLW. The Bulldogs coaching team, support staff and the girls have been great to me since making the move here. Everything is so professional and the level expected of each player at training is high and I am doing everything I can to make sure I do not let my teammates or the club down.
Image Source:AFL Tasmania
Who has influenced your football and sporting career the most?
Throughout my different sporting teams I have had many people who have influenced me in different ways. In regards of football I feel like I have been very lucky to have the support I did back home from my local club coaches. They pushed me and made me believe that I could get drafted and without that I am not sure I would be in the position I am in today.
I read in an interview you did for your club's website on how Katie Brennan and Ellie Blackburn have taken you under their wing since being at the Dogs, what have you learnt from Brennan and Blackburn?
All the girls have taken me under their wing and have made my stay in Melbourne a smooth transition. All the senior girls on the list are amazing. Their hard work and dedication on and off the field is inspiring. They are constantly providing me with feedback on little things I can do to improve my game for both myself individually and for the good of the team. All the girls have something to offer and we are all learning from each other, which is great.
What do you enjoy most about playing women's football?
Watching football as a kid I loved the big hits and pack marks. I never once imagined that I would ever be able to do that. For me, since I have only being playing football for about 3 years now I just love being out there. I love every aspect of the game and I love that as a woman I can play football at an AFL level. I feel like I have to pinch myself to believe that I am actually able to do this. It is amazing and I am having the best time so far.
What do you feel are your main strengths in football?
My greatest strengths in football would have to be my attack on the ball and my courage. I am not afraid of anyone out there and I am willing to put my body on the line for my team. I am not someone who wants the glory. I am team focussed and I get as much if not more enjoyment from setting up a teammate than kicking a goal myself.
What areas in your football do you feel you need to improve in?
Being my first year at the club I have a lot to improve on. I am still learning the Club's game plans and set ups as well as trying to improve the standard of my kicking and handball skills so that I am able to execute at a level that is expected of an AFLW player.
What is your favourite football position to play in and why?
I like to play as a small forward. You get the best of both worlds there. You get to tackle, compete one on one, you get the big group packs as well as the option to kick goals if the opportunities arise.
Which AFL player past and/or current do you model your game on?
I do not really model off any one player. There are characteristics of lots of players that I admire and try and model off. You have Katie Brennan and her marking and kicking ability, Emma Kearney and Ellie Blackburn and their attack on the ball and their skill execution and Aasta O'Connor who hits hard and talks a lot on the field and is so knowledgeable about the game.
What is your pre game ritual?
I like to be really organised on game day. I lay all my clothes and gear out in front of my game that morning and do not pack my bag until I am ready to leave the house. I wear the same underwear every game and have an order in which I put my socks and boots on before I run out on to the field. It is not do or die whether or not I do all of these but it makes me feel a lot more relaxed if I am able to.
What is your go to meal after a football match?
I love all food. I do not really have a go to meal, but if I had a choice it would be Lasagne.
Describe what it is like to be a Western Bulldogs women's footballer?
It is a dream come true. To train alongside the girls each week is amazing. I am learning so much, my fitness has improved and I already feel like I am a completely different player to what I was 6 months ago. Each week I feel more comfortable and I cannot wait to start playing with the girls.
What are you most looking forward to in your first season at the Western Bulldogs?
Hearing the siren sound for the start of my first game. I got a little taste in last weekend's practice match, but I cannot wait to hear the crowd and be around the girls when I run out for my first rostered match. I have so much support back home and I know they will all be there for my first game and I am so looking forward to that. I am planning to make the most of every opportunity I get to play and just enjoy every second of it.