Get to know GWS Giants women's captain Amanda Farrugia
Tuesday, January 16 2018 @ 02:44 pm ACDT
Contributed by: Tash Gunawardana
Views: 2,501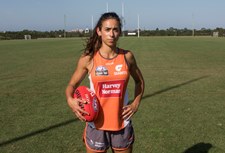 Tash Gunawardana interviewed the GWS Giants captain Amanda Farrugia ahead of the 2018 AFLW season that starts on February the 2nd. Good luck to Amanda in her second season as captain of the GWS Giants
When growing up, what other sports did you play other than Aussie Rules?
Growing up, I did not actually play Aussie Rules because I did not know that there was a pathway for girls. So I played basketball for the majority of my school life and started Touch Football in high school also.
Has it always been your dream to play professional football when a child or did you have other dreams as well?
I was definitely not a dreamer as a kid. I was very content in the moment, playing basketball at lunch time and on weekends and being a diligent academic student. Therefore, where I am now feels like a dream I never thought possible.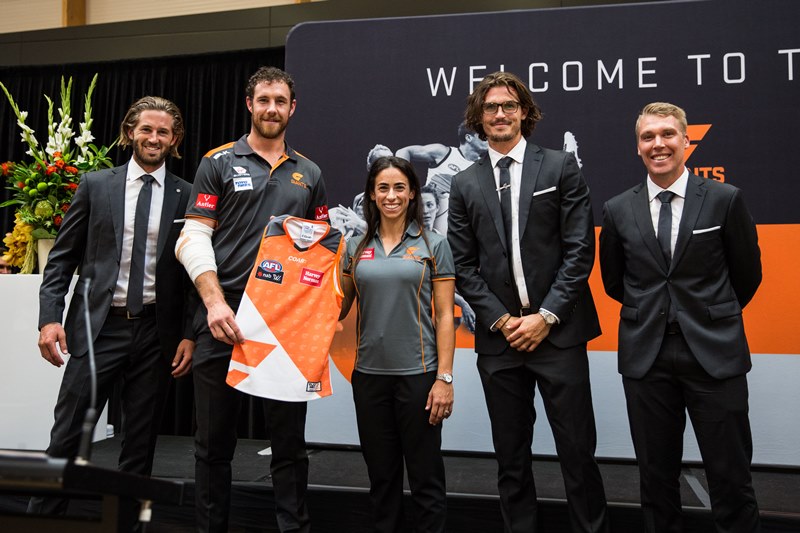 How long have you been playing football for?
I am fairly new to the game and have only been playing since 2011.
What is your biggest sporting accomplishment?
Being awarded the captaincy of the Giants team in the inaugural season was a wonderful personal highlight. I have no doubt this would be surpassed but winning an AFLW premiership. Sharing experiences with your team mates makes them much more memorable. We will just have to see how the season unfolds.
How do you prepare for a football match?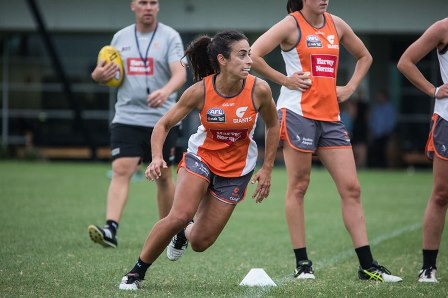 I like to keep pre game preparation very consistent and routine. I eat the same foods, stretch/activate in the same order and ensure I get a really good night's sleep.
What is your go to meal after a football match?
If I am allowed, I love to refuel with pizza! Research has been done to show it provides excellent nutrition post match. I just need to convince my dietician!
What do you like most about being the captain of the GWS Giants women's team?
Having the profile of captain gives me greater leverage to have a positive impact in areas that I am passionate about. For example the promotion of the game amongst culturally diverse young people and particularly, the girls who attend my school. Being a full time teacher and being raised in western Sydney sends a strong message to young people that your background, age, sex or socioeconomic status are not barriers to the heights you can reach.
Describe what it is like to be a GWS Giants women's footballer?
It is a privilege because when you play for the Giants, there is investment in you not only as a footy player, but as a person. Being a member of the Giants family enhances all aspects of your life.
Who is an AFL player past and/or present you model your game on?
I try and take little things away from lots of different players. It is great to watch Callan Ward, Joel Selwood and Tom Scully go about their work. Their courage, athleticism and work ethic are very admirable.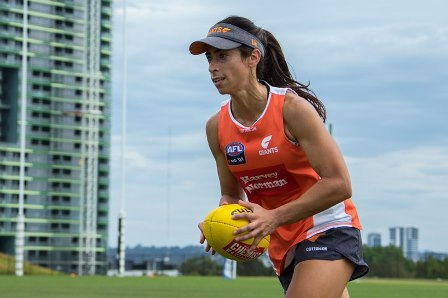 Would you like to play in another football position other than defender in the AFLW 2018 season for the GWS Giants?
Footy players play roles for their team whether you start on the bench or are the best player in the team, you have an important job to do. I am happy to play anywhere at all to be honest with you!
Who has been the player or players you have learnt the most from in your first season at the GWS Giants?
Every player has offered something that has acted as a learning experience. The young girls are encouraged to speak up and offer their ideas at all times because every player has a fresh take on things. Our 2017 Best and Fairest winner, Jess Dal Pos has certainly given great insights on her experiences playing on some of the league's best midfielders. She has a great footy brain!
Which one of your coaches has had the biggest impact on your football career?
My club footy coach, Dan Ranson, has been an avid supporter of my footy journey since its inception. He has always encouraged me to pursue opportunities and provided copious amounts of positive feedback. At the Giants, it is fair to say Alan McConnell has been a mentor for each of us. His knowledge of the game and desire to challenge each of us to be better people and better players is relentless.
How do you balance your life, work and football commitments?
It is difficult at times but when you love what you do, you make it work. I have an excellent husband who is a huge Giants fan and a fabulous Principal who regularly allows me to travel and undertake AFLW commitments during school time. A big key is having supportive people around you who believe in the value of what you do.
Have you had any injuries in your football career, if so what are they?
Tore my ACL in 2012, which required a knee reconstruction. Broken nose requiring surgery in 2014.
Which player from the GWS Giants women's team do you think will be the one to watch in the 2018 AFLW season?
Courtney Gum. Strong, skillful and a superb team player. Can kick 40m off both feet and reads the game very well. Definitely excited to see her in action and I am very glad she is on my team!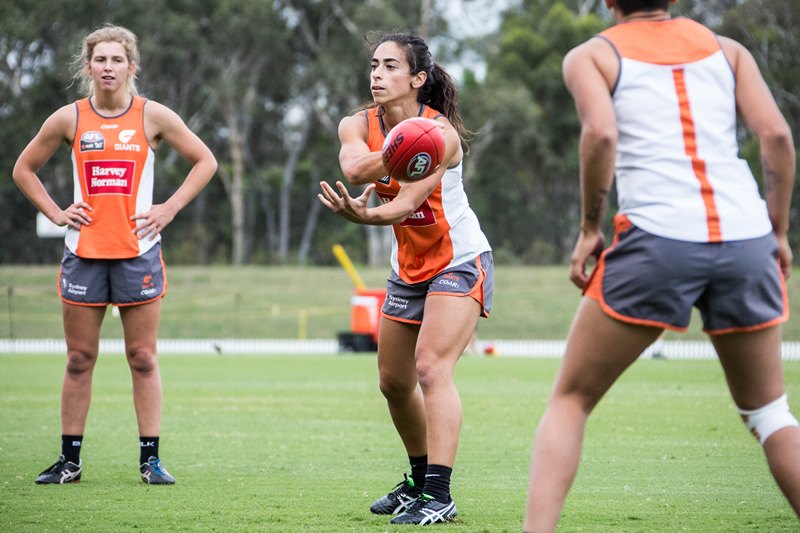 All images courtesy GWS Giants