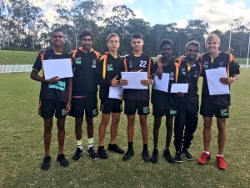 The following media release from the AFLNT details the selection of five Northern Territory footballers about to embark on a trip to Fiji as part of the Rio Tinto AFL Flying Boomerangs squad. Each was selected at the end of the AFL National Diversity & Kickstart Championships back in April where the best indigenous and multicultural footballers from across Australia in the Under 15 age group played each other in a state versus state competition. The best players gained national selection in the Flying Boomerangs (indigenous) and All Nations (multicultural) squads.
Five Territorians will join the Rio Tinto AFL Flying Boomerangs Leadership Program, which begins tomorrow, Saturday December 2, in Fiji.
Clarence Baird (Palmerston Football Club), Joel Jeffrey (Wanderers Football Club), Brodie Lake (Southern Districts Football Club), Tyrell Lui (Wanderers Football Club) and Reggie Gallagher (CAFL) were all selected on the back of their performances at the 2017 AFL National Diversity Championships held in Blacktown earlier this year. 
Their selection is also based on school attendance, leadership skills, and football ability.
A further two more Territorians will travel with the group in Donny Cubillo, Physiotherapist, and former Geelong Cats star, Mathew Stokes who will perform the role of Program Manager on the trip.
Currently in its twelfth year, the Rio Tinto AFL Flying Boomerangs is the national under-16 male Indigenous development program. Twenty-six talented Indigenous players from across the country will participate in the eight-day camp that focuses on personal and career development, leadership and cultural identity. 
The Fiji program coincides with the AFL's Under-15 Youth Oceania Cup where teams from across Fiji, Vanuatu, and Nauru will compete in a Lightning Series. In addition, the Boomerangs team will play a match against an All Stars team from the Oceania Cup. The program itinerary also includes a church visit, a day trip to Yanuca Island, high-performance training and mock draft interviews. 
AFLNT Manager of Talent and Pathways, Wally Gallio, said the Rio Tinto AFL Flying Boomerangs program to Fiji was built on providing development opportunities both on and off the field. 
"It's a great opportunity to experience both football and cultural experiences on the back of their performance in the first camp in July on the Gold Coast when they played the World Team where they won both games. The four Territory boys all performed consistently." 
"These young men will become the next generation of Indigenous sporting role models as they continue on their pathway into the AFL," Gallio said. 
The Rio Tinto AFL Flying Boomerangs will be coached by Barry Lawrence (WA) with Rulla Kelly-Mansell (TAS), and Harry Miller (SA) named as assistants. 
Rio Tinto is one of Australia's largest employers of Indigenous people, employing some 1600 Aboriginal men and women across the nation. 
Picture: Northern Territory players in Blacktown earlier this year.