Heron Flies The Flag For Cairns – AFL Rookie Draft
Monday, November 27 2017 @ 11:06 pm ACDT
Contributed by: Wesley Hull
Views: 2,212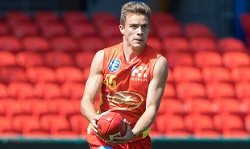 Following just a year after Jack Bowes made his way to the Gold Coast Suns from Cairns, fellow Cairns Saints product Jacob Heron has taken the same route – pre-selected prior to today's Rookie Draft as category B Rookie. Whilst it might not sound quite so glamourous as Bowes' selection in the top ten of the 2016 draft, make no mistake – Heron is the equal of Bowes and will find his way to the Gold Coast Suns senior list very quickly.
Like Bowes, Heron is a player that I have coached against. Thankfully, not as often. His pace is electrifying, especially when he reaches open space. His skills, from the point of view of an opposition coach, are flabbergasting. Dangerous on both sides of the body, Heron could change a game – and often did.
But there is more to Jacob that simply football skills. This is a young man who lived and breathed the game. Off field you could see him throughout his junior career helping his club as an umpire, water boy, whatever was needed. His involvement in the game was total.
Leaving Cairns for the Gold Coast as part of th Gold Coast Suns Academy in 2017, Heron started to gain a reputation in the NEAFL – and along the way caught the eye of those important recruiters and talent scouts.
For such a quick player, he also had tremendous defensive ability – proving in the NEAFL that he was more than capable of half a dozen tackles or more per game – a trait he had in his junior days in Cairns which has simply gone to another level.
Cairns has seen an ever-growing list of players making it to the lists of AFL clubs – successfully. Jack Bowes is the next most recent behind Heron, but Charlie Dixon is a star at Port Adelaide and Jarrod Harbrow an inspirational leader at the Gold Coast Suns. Courtenay Dempsey (Essendon), Sam Michael (Brisbane/Essendon) and Peter Yagmoor (Collingwood) are other Cairns players who have recently been on AFL club lists. Now Jacob Heron has the chance to be their equal – or better – as he looks forward to a new career at the Gold Coast Suns.
Combined with the recent recruitment of Townsville players to North Melbourne (Brayden Preuss and Josh Williams), North Queensland is becoming a "go-to" location for clubs hunting talent. Unfortunately two other Cairns products – Timakai Bowie and Damian Burke - missed out on rookie selection.
But Jacob Heron has got there and football in Cairns, and the AFL, is better for it.
Picture Credit: Gold Coast Suns @
http://www.goldcoastfc.com.au/