Free Agency period may be last hope for Internationals
Wednesday, October 12 2016 @ 10:55 pm ACDT
Contributed by: Troy Thompson
Views: 1,988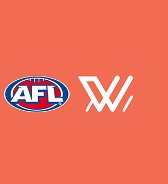 The AFL National Women's Draft was held in Melbourne today. The 8 foundation clubs of the AFL Women's league set to debut in 2017 added to their initial list of priority picks and rookies with a total of 145 selections in today's draft.
We held out hope that a number of players from Ireland, the US and Canada might be among them but it was not to be. If they are to be a part of the inaugural season they must now hope they can secure a place at one of the clubs during the "free agency period" between now and October 31. Each club will have three places on their list for these players.
Some international connections to footy overseas were however noted.
Brisbane took Jessica Wuetschner at Pick 34. Wuetschner spent time with the Boston Demons in the USAFL.
GWS took Jacinda Barclay with Pick 65. Barclay was pictured at the draft in a red footy top with the USAFL logo on it which turns out is from time spent at the Chicago Swans football club this year. Barclay formerly played Baseball for Australia and played in the Gridiron football "Legends Football League."
Lauren Spark was selected at Pick 76 by the Western Bulldogs. Spark played footy this season with the Wimbledon Hawks (like Kate Shierlaw who was rookie listed at Carlton prior to the draft). She was involved in junior footy development and also was assistant coach of the Great Britain women's team the GB Swans at the European Championships this year. A huge feather in the cap of the Wimbledon Hawks to have two players at AFL Women's clubs next year.
NAB AFL Women's Draft full list
The inaugural AFL Women's competition will take place in early 2017.