The Premiership Cycle
Saturday, October 01 2016 @ 09:11 am ACST
Contributed by: Wesley Hull
Views: 1,591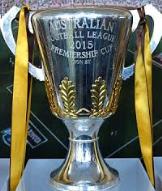 In an era of national drafts, free agents, ground rationalisation, Total Player Payments and salary caps, the question is often asked as to whether some clubs are better off than others – if the league is now operating with a cycle of sorts where all teams will get their chance.
Often the measurement of that question is premierships. It is the ultimate prize and a fair starting point. But on that great day it is debatable whether any of those mechanisms mentioned actually make the difference. Or is it fairer to measure grand final appearances – the two teams that fight all the way through to the final 100 minutes of a season.
One question here is what would be a fair length of a cycle?
For the sake of this argument, I am going with 20 years (some might say 18 teams, 18 seasons – but I like round figures).
So, 20 seasons ago we saw the Adelaide Crows go back to back when they downed the Saints. But a closer look at those 20 years sees 10 clubs win flags. In order of victories there is Hawthorn (2015), Sydney (2012), Geelong (2011), Collingwood (2010), West Coast (2006), Port Adelaide (2004), Brisbane (2003), Essendon (2000), North Melbourne (1999), Adelaide (1998). That is 10 out of 18 clubs with flags – and a slightly unfair percentage given that the Giants and Suns are relatively new.
But another way to look at this is how long it is since a club's last Grand Final appearance. Over the same period of time, 15 clubs have played in the big dance since 1998. Counting today's contestants, and classifying them as having a 0 year wait, the table looks like this:
Sydney (0), Western Bulldogs (0), Hawthorn (1), West Coast (1), Fremantle (3), Geelong (5), Collingwood (5), St Kilda (6), Port Adelaide (9), Brisbane (12), Essendon (15), Melbourne (16), North Melbourne (17), Carlton (17), Adelaide (18).
It could certainly be argued that the above lists indicate a competition which, largely through a range of control measures, is more even than some may think. Those who see that the mini-dynasties of Hawthorn, Geelong and Brisbane suggest a competition dominated by a few might see it slightly differently now that 15 clubs have had a chance to win a flag in 20 seasons – 10 have. Any perceived dominance might be put down to an incredibly talented playing list, great coaching or wonderful club structures off field rather than pure AFL orchestration.
The GWS Giants went within a whisker of getting there this year. That leaves the Gold Coast Suns and Richmond and based on the above their days may not be that far away.
The existing situation has also been a drought-breaker. The Western Bulldogs last played in a Grand Final in 1961 (55 year drought broken) and have a chance to win their first flag since 1954 (breaking a 62 year drought. Back in 2005, the Sydney Swans under Paul Roos won their first flag since 1933, breaking their own 72 year drought. Geelong's premiership in 2007 broke their own 44 year drought and when the Brisbane Lions (the phoenix of Fitzroy to some) won their first of three successive flags in 2001 it broke a 57 year drought that went back to 1944.
Fans of St Kilda (last flag 1966) and Melbourne (last flag 1964) must be believing that a flag is in their reach sooner rather than later. Both showed great improvement during 2016 – they are both a chance if their recent development continues.
The appearance of two of the league's former drought victims in the same Grand Final this year certainly shows that the measures put in place by the AFL to achieve equity is working.
It would be a romantic finish if the Western Bulldogs did win today on an emotional level. But on a purely analytical level, a Dogs' win today would be further evidence of how cyclic the AFL competition now is.
Giants, Suns and Tigers, take note!
(Photo Credit: AAP)