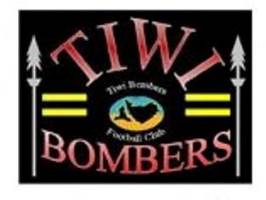 In the lead up to the new NTFL season due to kick off next month, the Tiwi Bombers have announced sweeping changes at coaching and board level to ensure that the Bombers can rise again. After a successful start in the NTFL competition from their inception for the 2006/7 season, and culminating in the 2009/10 premiership, the club has fallen away a little in recent seasons. The new 2016/17 season promises to deliver the club back into the higher echelons of the NTFL competition.
The Tiwi Bombers Football Club is pleased to announce the appointment of new board members and a Senior Coach ahead of the 2016/17 TIO NTFL season.
Wayne Worden has today been appointed the Senior Coach of the Tiwi Bombers Football Club.
An AFLNT Life Member, Worden returns to Tiwi after spending two seasons as the backline specialist coach from 2009 – 2011 when the Bombers won their first TIO NTFL premiership.
Previously, Worden was a premiership coach at PINT Football Club and was named All Australian Coach at the Masters National Championship in 2013 and 2014.
The newly appointed Tiwi Bombers Board welcomed his appointment.
In a restructure of football on the Islands, the Board will continue to oversee the growth and development of the Tiwi Bombers Football Club with the vision of becoming the Tiwi Island Football Commission prior to the 2017/18 TIO NTFL Season.
The following Board members have been appointed:
Gawin Tipiloura
Richard Tungutalum
Mary Dunn
Deanne Rioli
Marion Scrymgour
Danny Munkara
Connell Tipiloura
It is the first time women have been appointed to the Tiwi Bombers Board and the first time both Melville and Bathurst Island are represented.
As part of the restructure of football on the Island, AFLNT's Aaron Dunster has been appointed Remote Development Manager for the Tiwi Island and will work with the Tiwi Football Commission to oversee the TIFL, the Tiwi Bombers Football Club, and all game development activities on the Islands.
For media enquiries, please contact:
Gawin Tipiloura at:  gawin.tipiloura@tiwiislands.nt.gov.au