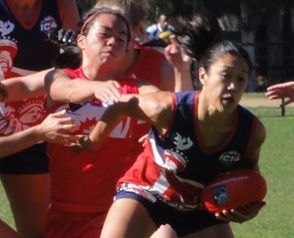 The AFL today launched AFL Women's as the official name of the new national women's league. In a step closer to the inaugural 2017 season, the new name, AFL Women's, was launched in a collaboration with Instagram.
AFL CEO Gillon McLachlan, said the new name AFL Women's, was developed in consultation with past and present players and the Women's Football Advisory Group.
Since the landmark announcement of the licences in June there has been unprecedented media coverage and groundswell surrounding AFL Women's with fans engaging at all levels, culminating in record TV ratings for the All Stars game earlier in September.
The AFL today hosted the Global COO of Instagram, Marne Levine, who met with the marquee players of the league, and led the launch of the new name on the @AFLWomens / #aflwomens platform.
Mr McLachlan said women playing the game have always used social media platforms to build, organise and communicate with their sporting communities, and the launch of the name on Instagram shows the importance of social media to the future success of the league.
"We have been delighted with the public's response to the establishment of AFL Women's. Our women players have already become inspirations to a new generation of participants, and we know how important their stories are to the future success of the game," Mr McLachlan said.
"Instagram is a fantastic place to reach out to a broader audience and to build support, and I thank them today for their support of the women players, and their support of the new league,"
Instagram will be providing ongoing support and education to the players on how to leverage and manage their own social media accounts. With less than five months until AFL Women's kicks off, the AFL is committed to building fan support for the women players and the new league.
Instagram COO Marne Levine said: "We're thrilled to welcome Australia's first ever AFL Women's league on Instagram, home to a passionate global community of sports fans. The best sports moments have long been captured by enduring and powerful imagery. Now fans can easily access authentic, behind-the-scenes moments by AFL Women's and support these trailblazers on their road to the inaugural 2017 season, and beyond."