Women's Match "Inspirational"
Sunday, September 04 2016 @ 01:03 pm ACST
Contributed by: Wesley Hull
Views: 1,730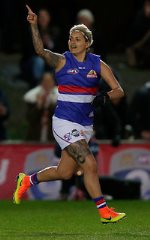 Just at the moment all I want is a set of footy cards. Not those big, burly blokes that usually grace the cards. I want a set of women's league cards. They probably already exist, but I imagine that there will be more of them made featuring more players and available in more places when the national women's league gets underway next year.
In the past I have found that cards have been a great giveaway for kids. They help to generate excitement as kids are maybe lucky enough to stumble across a card of their hero.
After last night's match at the Whitten Oval, where the Western Bulldogs downed the Melbourne Demons in an historic first victory, the footy world was rewarded with a collection of "marquee" players, young guns of the future and old hands steadying the ships. That these players were our most elite women showed just how far the game of Australian Rules football had come in recent times and was a vision through a crystal ball of what will come.
This year I have continued to coach a wonderful girl's primary school footy team up here in Cairns. They have been fantastic and have accepted the baton from past girl's teams I have coached with a steely resolve to be better. The same has occurred with my local club's youth girls' team. Both groups of girls have embraced the game to levels I have not previously witnessed. The school girls have been the most ferocious tackling team I have coached – girls or boys – and the youth girls have been the best listeners at training, improving each week because they took on the messages at training and displayed that learning on match day.
Now what I want for all of them is a set of footy cards. I want them to have cards of their heroes – have them fighting over a Moana Hope card, or a Daisy Pearce card. I want them to treasure their copies of a Katie Brennan gold card or a Tayla Harris 3D card.
I want them to have a small reminder of what could be sitting in their bag or laying on a desk at home. Little inspirations that trigger a desire for success, or at least to try for it.
Moana Hope kicked six goals for the Bulldogs last night in a performance that was reminiscent of any good full forward you care to name. She led to the ball, marked, snapped, bustled and celebrated. Collingwood fans would be salivating right now thinking about their latest signing. Who cares if the men's team is about to sign Peter Daicos' son in the drafts in a few weeks…the Magpies already have Mo Hope and that is exciting.
Daisy Pearce ran all night and kept the demons in the game with 25 touches. Tayla Harris' long bomb for a goal from 55 metres out on the edge of the square brought the crown to their feet in excitement and certainly taught her male counterparts a thing or two about kicking. Ebony Antonio and Angela Foley also did some good things along the way, as did forward Sabrina Frederick-Traub who was a strong marking target up forward.
But the Bulldogs on the night were superb, and their team on the night was full of highlights. With defenders Brianna Davey and Tahlia Randall rebounding all night, Ellie Blackburn and Katie Brennan dominating across the midfield, veteran Steph Chiocci marshalling her troops all over the field and Darcy Vescio proving the ideal partner to Moana Hope up forward, this team impressed all of those watching. The performance should have been bottled (or maybe videoing is easier) and handed to all aspiring girls at all levels – this is the level you could play at.
For the record, the Western Bulldogs won the match 14 6 90 to the Melbourne Demons 7 9 51 to win the Hampson-Hardeman Cup (two wonderful pioneering women who blazed a train for other women to follow) for the first time after it had been all Demons in all previous encounters.
Now these women will begin their time with their new clubs for 2017, or wait to be drafted by those clubs.
My job is to try and get some footy cards and give them to my girls' teams so they can be inspired and aspire themselves to be the next Harris, Hope, Pearce, Brennan and take women's footy to heights yet to be seen.
Picture:
afl.com.au