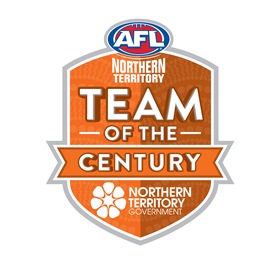 The success this year of Essendon player Anthony McDonald-Tipungwuti has prompted media calls to scour the Northern Territory for more talent, almost as if it is an unmined vein of rich talent. But history has already proved that the Northern Territory has already produced outstanding talent on a regular basis for 100 years. Some of that talent has graced the lists of VFL/AFL clubs, whilst others have excelled in other state leagues or just remained local heroes in Darwin or Alice Springs.                                                                                                                           
The following media release from the AFLNT announces the final "TEAM OF THE CENTURY" to help celebrate and honour 100 years of Northern Territory football.
AFLNT has tonight unveiled the AFLNT Northern Territory Government Team of the Century at a gala dinner at SKYCITY Darwin.
The list includes NT football identities that established their careers on the national stage and also pays respect to the local men who made their name in the Territory.
Adelaide Crows legend and dual-Norm Smith medallist Andrew McLeod has been named captain of the side while Tiwi-born ruckman David Kantilla Sr is vice captain.
Ten players in the AFLNT Northern Territory Government Team of the Century made it on to AFL lists while 19 members of the team also feature in the AFLNT Hall of Fame. 
Russell Jeffrey is the only Territorian on the list who has represented Victoria in a State of Origin match while many players have represented the NT at some stage in their career. 
Named in the back pocket, Bill Dempsey is the only footballer to have represented Western Australia while both Michael Graham and David Kantilla represented South Australia after forging successful careers in the SANFL. 
Featuring in the top 22 are three Central Australians who made it to the national stage; Joel Bowden (Richmond), Gilbert McAdam (St Kilda/Brisbane), and Darryl White (Brisbane). 
Last year's Norm Smith Medallist and four-time Hawthorn premiership player, Cyril Rioli Jr joins his father Cyril Rioli Sr as the only father-son combination to have made the list. His late uncle Maurice Rioli joins them.
Another uncle of Rioli Jr, Michael Long, is a name synonymous with Territory football. A winner of two AFL Premierships, a Norm Smith medallist and an Australian Football Hall of Fame, Long has been named in the centreline alongside legends Andrew McLeod and John 'Bubba' Tye. 
12 members of the AFLNT Northern Territory Government Team of the Century have been involved with the St Mary's Football Club, either as a player or a coach.
John 'KJ' Taylor has been named coach of the team after winning 11 premierships in 13 seasons with the St Mary's Football Club.
The AFLNT Northern Territory Government Team of the Century is as follows:
B              Joel Bowden              Russell Jeffrey             Bill Dempsey
HB           Nathan Buckley         Michael Athanasiou     Michael McLean
C              Michael Long             Andrew McLeod (C)     John Tye
HF            Michael Graham        Joe Bonson                  Maurice Rioli
F              Darryl White                Dennis Dunn                Gympie LewFatt
R&R        David Kantilla (VC)    Reuben Cooper           Cyril Rioli Jr
INT          Walter LewFatt           Gilbert McAdam           
                Cyril Rioli Snr             Jimmy Anderson         
Coach    John Taylor                                                        
In his address, AFLNT CEO and non-voting Team of the Century Committee Chair, Michael Solomon said:
"We are fortunate to be part of history as we witness the naming of the AFLNT Northern Territory Government Team of the Century. 
"Over 55,000 people have played the game here in the NT and our selection committee had the unenviable task of selecting the best 22 – it was never going to be a simple job but we are thrilled to have reached this point.
"On behalf of the NT football family, I would like to congratulate every single player and coach on being named, it is an honour that is both hard earned and richly deserved.
"The AFLNT Northern Territory Government Team of the Century is a fitting tribute to the great game of Australian Rules here in the Territory and this is a team we can all be proud of. Football means a lot to everyone in the NT, it is the sport that defines the Territory way of life and tonight is a culmination of 100 years of football excellence and achievement for those lucky enough to make this Team of the Century. 
"I would like to thank the selection committee for their courage in carrying out a difficult and thankless task.
"As we celebrate 100 years of football in the Territory, we would also like to thank our major sponsors; the NT Government and Cazalys Palmerston whose valuable support has allowed us to make tonight special for all in attendance.
"On behalf of the AFL, AFLNT and all involved in Territory football since 1916, thank you and congratulations to every footballer recognised in the team."