Marquee Players – Flag Bearers For Footy Generations
Thursday, July 28 2016 @ 08:36 pm ACST
Contributed by: Wesley Hull
Views: 1,644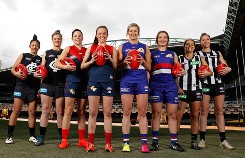 Here is a task. Name 16 marquee players to capture to public's imagination over the remainder of this decade. I accept the challenge, so here goes.
Chelsea Randall, Kellie Gibson, Tayla Harris, Sabrina Frederick-Traub, Brianna Davey, Darcy Vescio, Moana Hope, Emma King, Kara Donnellan, Kiara Bowers, Renee Forth, Emma Swanson, Daisy Pearce, Mel Hickey, Katie Brennan, Ellie Blackburn.
I know this list is correct as it was the one announced yesterday by the AFL as the marquee players for the national women's competition in 2017. Oh, but that wasn't the list you were thinking.
By marquee maybe it meant Lance Franklin, Jimmy Bartel, Gary Ablett, Dustin Martin, Nick Reiwoldt, Cyril Rioli, Dylan Shiel, Scott Pendlebury, Bryce Gibbs, Daniel Wells, Dyson Heppell, Tom Rockliff, Robbie Gray, Nic Natanui, Bob Murphy, Nathan Jones, Rory Sloane or Nat Fyfe – players who lead their clubs by example and experience.
Or maybe the marquee player should be the new young gun representing the future more so that the past and present. Maybe it is Jake Lever, Eric Hipwood, Patrick Cripps, Adam Treloar, Darcy Parish, Lachie Weller, Nakia Cockatoo, James Sicily, Jesse Hogan, Jack Martin, Josh Kelly, Chad Wingard, Daniel Rioli, Isaac Heeney, Marcus Bontempelli, Jade Gresham, Mason Wood or Liam Duggan – young guns on whose talent's the next decade can be built.
My earliest memories (which coincided with my first batches of footy cards) would have included the likes of John Nicholls, Peter McKenna, Barry Davis, Kevin Murray, Ted Whitten, Peter Hudson, Denis Marshall, Francis Bourke, Ian Stewart, Bob Skilton or Keith Greig. Some of the game's greatest legends or just bloody good footballers.
The announcement of the AFL's marquee women's players provides a new opportunity which will grow over time. Just as I have had my own marquee players over time, a new generation of women, most importantly girls, will have their own heroines to look up to.
Daisy Pearce has already reached that status. A regular part of many AFL football shows, Daisy already has a strong following as one of the pioneers of the new push for women's football. Not far behind are highly exposed stars in Tayla Harris and Katie Brennan. Brisbane Lions and Western Bulldogs fans will soon roar their names at matches as the "go to" players in those teams. Collingwood fans would already be salivating over the remarkable season that Moana Hope has had as she approaches the 100 goal mark in a season. In a club that has boasted Coventry, Lee, Rocca and McKenna in the top 25 alll time AFL/VFL goalkickers list, Hope may be the next Magpie goalkicker of elite status.
Carlton's Brianna Davey is a former Australian Soccer goal keeper and might yet be the premier defender in the new women's competition.
The list of star quality women's players is growing rapidly and shows no signs of slowing. Here in my own town of Cairns I have had the pleasure to have coached girls like Elisha King, Kiara Matthew, Tahlia Smith, Judhil Canendo and Sherita Pilot, all of whom are on their own journeys and have the skills to go all the way to the big time. That's just one far flung northern city.
Multiply that by hundreds or thousands of other locations and the talent is overflowing.
So, this list of marquee players for women's footy stands alongside past incarnations of men's lists as a beacon to promote the best women players in the land as well as encouraging the next generations. They are all exciting women to watch on the fields of play and their influence amongst future generations of young girls (and likely boys) will be profound and far reaching.
To read more about the sixteen marquee women's footballers, go to the
http://www.afl.com.au
article at:
http://www.afl.com.au/news/2016-07-27...yers-named
See also our World Footy News story about British born marquee player Sabrina Frederick-Traub at:
British born Fredrick-Traub among marquee players
Picture: Courtesy
www.afl.com.au