British born Fredrick-Traub among marquee players
Wednesday, July 27 2016 @ 07:05 pm ACST
Contributed by: Troy Thompson
Views: 2,163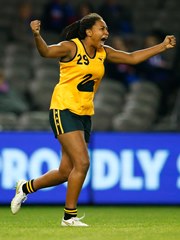 The AFL national women's league clubs today named their marquee players at press conferences in Perth, Adelaide, Melbourne, Sydney and Brisbane.
The 16 players will be the faces of the inaugural women's teams; Adelaide Crows, Brisbane Lions, Carlton, Collingwood, Fremantle, GWS Giants, Melbourne and the Western Bulldogs.
Among them is 20 year old Sabrina Fredrick-Traub who currently plays full forward for South Fremantle. Fredrick-Traub was born in England and moved to Australia when she was seven and she began playing football with the boys to help get used to Australian life. She was named as one of two marquee players for the Brisbane Lions
Left: Sabrina Fredrick-Traub Image courtesy AFL Media
AFL chief executive officer Gillon McLachlan said the players will become heroes of their clubs.
"These women are the first ever female players to be listed at AFL clubs and their future as elite football players starts today. They will carry the hopes of their clubs, of our league, and we hope their own legion of fans," he said.
"We've seen them play and they are without doubt the best players our game has to offer. And importantly, off the field they demonstrate passion, determination and a hunger to inspire and encourage young Australian girls who love our game that anything is possible."
The strength of women's football in Western Australia is reflected in their eight marquee players. Victoria has seven players while Tayla Harris is the only Queenslander.
Six West Australians will relocate to other cities to play in the national competition.
The Darebin Falcons (VFL Womens) has four players while the Coastal Titans (WAWFL) has three players.
Marquee Player Profiles
Adelaide Crows
Kellie Gibson
Age: 20
Forward
In 2016 made the move to SA club Morphettville Park
Originally from Swan Districts WA
5 x WA youth girls representative
2 x WAWFL premiership player
Played Rugby 7s and went to the Youth Olympics in 2014 and won a gold medal
Selection #48 in 2013 Draft
Played with Western Bulldogs 2013, 2015
Played with Melbourne 2014
SANFL Community Programs Coordinator
Chelsea Randall
Age: 25
Forward
Plays with Swan Districts in WAWFL
3 x All-Australian
2 x WAWFL Best and Fairest
Selection #3 in 2013 Draft
Played with Melbourne 2013, 2014 & 2015
Represented Western Australia 2015 & 2016
Swan Districts Regional Manager - East Pilbara
Brisbane Lions
Sabrina Frederick-Traub
Age: 20
Full forward
Plays with South Fremantle in WAWFL
2 x youth girls All Australian
Played with Melbourne 2015
Played Western Australia 2015, 2016
2016 Australia Post AFL Multicultural Ambassador
Kicked three goals in the 2015 AFL Women's Exhibition Match
Currently studying sports psychology at Murdoch University
Moved to Australia, from England, when she was seven and she began playing football with the boys to help get used to Australian life.
Tayla Harris
Age: 19
Forward/Ruck
Plays with Zillmere in QWFL
5 x youth girls All-Australian
Selection #17 in 2014 Draft
Played with Melbourne 2014, 2015
Played with Brisbane Lions academy team 2016
Brisbane Lions Community Officer
Carlton
Brianna Davey
Age: 21
Defender/midfielder
Played with the Western Bulldogs 2015 & 2016
Playing with the St Kilda Sharks
Played for Melbourne Victory 2010–2015 in W League
Played for Melbourne City 2016 in W League
Former goalkeeper for the Matildas
Played Australian football until 13 years
Currently studying to be a teacher
Darcy Vescio
Age: 23
Full forward
Plays with Darebin Falcons
Selection #3 2014 Draft
Played for Western Bulldogs 2014 and 2015
Victorian state team 2013 & 2015
3 x premiership player with the Darebin Falcons
2016 Australia Post AFL Multicultural Ambassador
Comes from a Chinese and Italian background
Starting playing footy at age five
Graphic designer
Collingwood
Moana Hope
Age: 28
Full forward
Plays with St Kilda Sharks
Selection #10 in 2014 Draft
Played for Western Bulldogs 2014 and 2015
Has won multiple League goal kicking awards
5 x Victorian State representative
200+ games in the VWFL
Starting playing footy at age 13 with the boys
Traffic operations manager
Emma King
Age: 22
Ruck
Plays with Coastal Titans in WAWFL
Selection #1 in 2014 Draft
Played with Western Bulldogs 2014, 2015
2 x WA State representative
2 x WAWFL player
Has a twin sister, one of two sets in the family
Has just completed her architecture degree
Fremantle
Kiara Bowers
Age: 24
Midfielder
Plays with Coastal Titans
Selection #19 in 2013 Draft
Played with Melbourne in 2013, 2014, 2015
5 x WA State representative
4 x WAWFL League Best & Fairest
3 x WAWFL player
Area Manager for Hendry
Kara Donnellan
Age: 24
Midfielder
Captains Swan Districts in WAWFL
Selection #5 in 2013 Draft
Played with Melbourne 2013, 2014, 2015
3 x WA State representative
3 x Vic State representative
3 x All-Australian
2 x Club B&F at Swan Districts
Originally from Victoria
Justice and High Performance Manager at Swan Districts
GWS Giants
Renee Forth
Age: 29
Midfielder
Captains Coastal Titans in WAWFL
2012 Club Best and Fairest
Selection #41 in 2013 Draft
4 x WA Representative
Played with Melbourne 2013, 2014
Played with Western Bulldogs in 2015
Electrician
Emma Swanson
Age: 21
Midfielder
Selection #29 in 2013 Draft
Plays with East Fremantle in WAWFL
4 x Club Best and Fairest
Played with Melbourne 2013, 2014, 2015
4 x WA Representative at seniors and youth girls' level
Youth Girls All Australian
AFL Game Development Officer
Melbourne
Mel Hickey
Age: 31
Defender
Selection #11 in 2013 Draft
3 x Victorian player
4 x premiership player with the Darebin Falcons
2 x All-Australian
Grew up in Mildura, a distant relation to Geelong great Reg Hickey
Fitness consultant
Daisy Pearce
Age: 28
Midfielder
Melbourne captain 2013, 2014, 2015
Selection #1 in 2013 Draft
Captains the Darebin Falcons
8 x premiership player
4 x Victorian player
4 x All-Australian
6 x VWFL Premier Division B&F – Helen Lambert Medal
Previously a midwife and now an intern with Melbourne FC
Western Bulldogs
Ellie Blackburn
Age: 21
Midfield
Plays with Melbourne Uni
Selection #13 in 2013 Draft
2 x Victorian Representative
Played with Melbourne 2013, 2014, 2015, 2016
All-Australian at both senior and youth girls' level
50+ senior games in the VWFL
Grew up barracking for Hawthorn
Store manager
Katie Brennan
Age: 23
Forward
Originally from QLD now living in Victoria playing with the Darebin Falcons
Selection #22 in 2013 Draft
Victorian State Representative on 2 occasions
QLD State Representative at both senior and youth girls' level
3 x premiership player with the Darebin Falcons
3 x All-Australian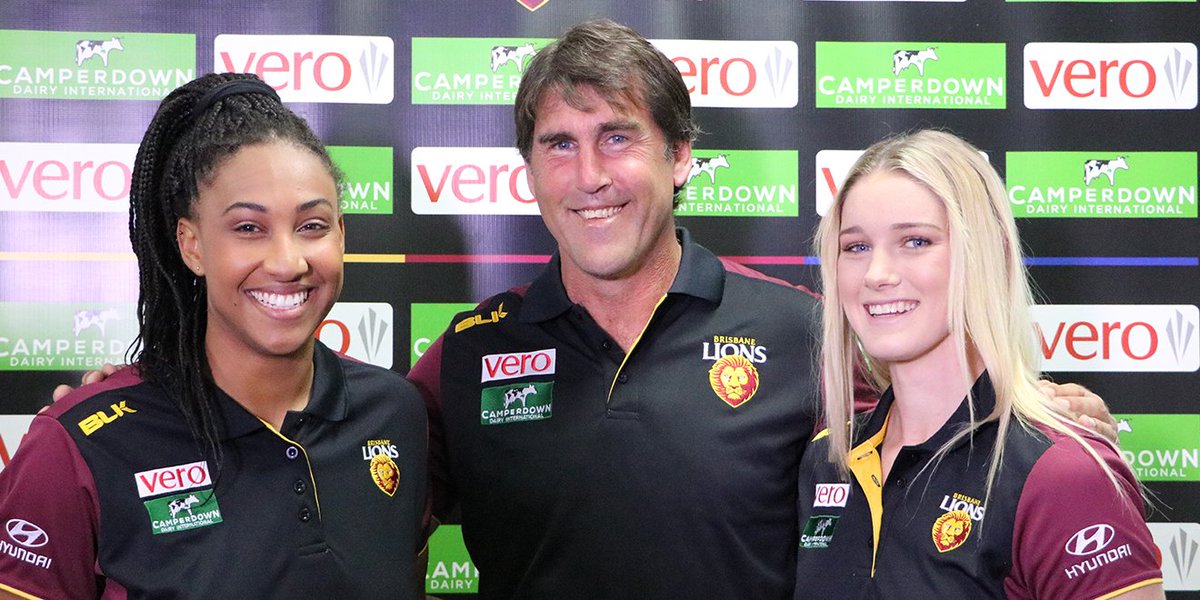 Strength and conditioning coach
Craig Starcevichtoday announced the signings of our two women's marquee players.

WATCH: https://t.co/imVqPerGwF pic.twitter.com/C69RLmyvw4
— Brisbane Lions (@brisbanelions) July 27, 2016