Bulldog Wallis' Love Affair With Cairns
Friday, July 15 2016 @ 07:25 pm ACST
Contributed by: Wesley Hull
Views: 1,734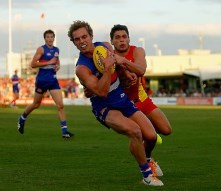 "I love coming up to Cairns. It is a break from Melbourne. We get to wear t-shirts and shorts which we can't do down in Melbourne."
Western Bulldogs' champion Mitch Wallis has just created one of the best possible tourism slogans possible as he espouses a love affair with our northern city. Here in Cairns for his third AFL Premiership match against the Gold Coast Suns in the tropical north, Wallis was happy to profess his love for our region which he says is shared by the players and the club.
Maybe "love affair" isn't quite the right term, but the Bulldogs have certainly turned Cazalys Stadium into a very happy hunting ground – and that alone is grounds for true love! In 2014 the Western Bulldogs turned on a six goal to two final-quarter to beat the suns by 28 points. They bettered that in 2015 with a blistering 10 goal final quarter to turn a 37 point deficit into a 22 point win.
So, does this form just come naturally in Cairns? "We love it up here in Cairns but we do a fair bit of preparation. We have to get used to the sun [missing today] and humidity. We train in the heat and we use saunas," Wallis said.
Mitch Wallis was recruited to the Western Bulldogs in the 2010 draft at pick 22 as a father/Son selection (his father, Steve Wallis, was a club legend with 261 games for the club, state representation and a former Bulldog captain). Since his debut in 2012, and a Rising Star nomination that year, Mitch Wallis has gone on to play 91 games and also shows the attributes to follow his dad and one day lead the Dogs.
But for now he has a job to do as part of a Western Bulldogs team intent on chasing their first premiership since 1954. Mitch is proud to follow his father's footsteps, but he knows he has a chance to get something his decorated father didn't. "Dad didn't play in a premiership, but that's what we all want now," Wallis added about the current team's united goal.
Wallis is also aware of the club's desire to keep coming to Cairns and make it a part of their club. "We can see that footy in Cairns in developing many programs to grow the game, and we are a club growing and developing also." Wallis is aware of the synchronicity between the Western Bulldogs heartland surrounding the Whitten Oval and their new northern "home".
Today's open training session and Fans Super Clinic hosted by the Bulldogs at Cazalys was eagerly attended by kids from all over the Cairns region – and their families. It was exciting to watch hundreds of kids with hundreds of footys doing tricks with the whole Western Bulldogs team. Die-hard Bulldog fans had travelled from Melbourne and beyond to be there also.
AFL Cairns CEO, Gary Young, is aware of the positive energy of the Cairns/Western Bulldogs connection. He is cheered by the knowledge that the Bulldogs want to keep coming to Cairns, and aware of how much value that brings the game in the northern city, as well as other community benefits including increased tourism and associated spending, investment and promotion.
With 1000 Western Bulldogs club members venturing north this year (almost double the figure for 2015) it seems that the club and its supporter base is embracing Cairns. Gary Young is certainly hoping that a ten thousand strong crowd this year will ice the Cairns cake and secure games in the city a long way into the future – and the Bulldogs also want to be a part of that.
A cool, windy day is expected in cairns for the match tomorrow. Wallis is happy for the notorious north/south howling gales to occur again as he believes that kicking into or against a wind brings out the practised skills in clubs. Gary Young is just happy for the possible showers to stay away.
But no matter what, Mitch Wallis, his Bulldog team mates and the Gold Coast Suns are set to once again light up the north and entertain the AFL footy loving public. They can all play their part in keeping the Cairns love affair alive and growing deeper every year.
Picture: (Top) Mitch Wallis is tackled by Dion Prestia from Gold Coast Suns in Cairns 2015 (With permission Western Bulldogs)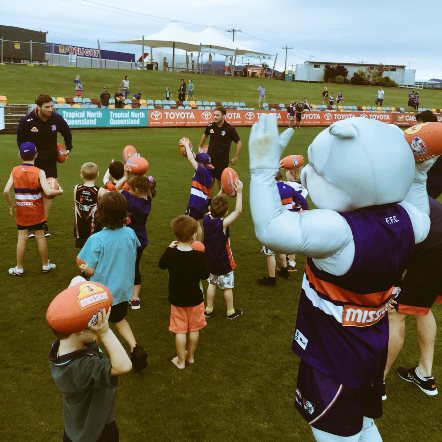 Picture: (Left) Bulldog Stars Matthew Boyd and Caleb Daniel help mascot Woofer with the Cairns kids (With permission Western Bulldogs)