One time Canadian Pyke bows out on own terms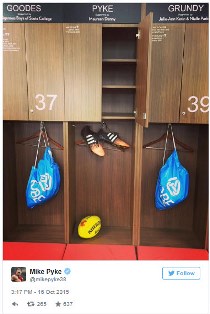 With a simple tweet Mike Pyke literally and figuratively hangs up his boots after a successful (surprisingly so) career at the Sydney Swans that was highlighted by a most solid outing in the 2012 premiership win against the pre-three-peat Hawthorn Hawks. From a 25 year old taking as big a personal sporting gamble as several more high profile 'code hoppers' - but with far less fanfare or fortune - Pyke has carved out a 6 year career that more than justified his personal journey and also the leap of faith of his club and coaches. And also highlighted the need the system to retain the means by which the sporting narrative can throw up such pleasant surprises rather than militarily fit to a formularised predictability.
End of the road was another finals series, although for the Swans falling out in straight sets was a somewhat hollow outcome for a season that promised so much more. Injuries to key players certainly didn't help come pointy end of the season for the Swans. Pyke's last hit out would be against North Melbourne and form All-Australian ruck Todd Goldstein. Goldstein snagged a goal, had 34 hits and 11 disposals and helped get North get home by 26. For Pyke – hampered by a niggly knee – it was becoming more laborious as he shared ruck duties with Kurt Tippett. 19 hit outs and 9 disposals to finish off his 110th career game.
For Pyke season 2015 provided a highlight moment, the 100th game in Round 10 this year when the Swans got the job done comfortably against the Gold Coast Suns at Carrara. Pyke (31 hit outs) and Tippett (17) got the choccies in the ruck against the inexperienced Nicholls. The win left the Swans in 2nd with 8 from 10. At this point they were fitting the prediction of a side seeking finals redemption after a Grand Final embarrassment in 2014. Alas they faded in the 2nd half, only winning a further 8 from the next 12 and had to again get past the Suns in Round 23 to ensure a top 4 finish - but still the need to head to Perth in week 1 of finals.
Pyke finished the year with 20 matches, 1 more than 2014. His best season was 2013 with 25 games while sharing ruck duties with Shane Mumford. That Mumford was let go at the end of that season was as big a vote of confidence in Pyke as anything however the burden of #1 ruck takes its toll. In 2013 Pyke averaged 22 hit outs, 11 disposals and a 1 goal each week (28 for the year). Mumford similar, slightly more hit outs, less goals (9). It was a good double act; the last 2 years disposal average has dropped to 9 and 8 and the goals have dried up. Hit outs around 26 per week this year. This was after a pretty solid patch from Round 5 to the 100th game with only one week below 30 hitouts and included highs of 59 against the Doggies in Round 5 and 53 against Carlton in Round 9. However – he missed several matches in the second half of the year due to that dodgy knee and with a year to go on his contract he would be 32 next year. Another season just seemed a bridge too far.
The 2009 Debut
Pyke debuted for the Swans in Round 6 2009 against Richmond at the age of 25 - a 'mature age recruit' but even for that category he was not typical by any means. Relatively unspectacularly – and not to critical acclaim by any means; especially if using commentator Brian Taylor as a guide (famously described him at one point as the worst player in the competition). Pyke managed 8 games in 2009 including 5 straight from Rounds 17-21. The Swans had Darren Jolly still as number 1 ruck. As it transpired Jolly moved on to Collingwood at seasons end however the writing seemed to be on the wall for Pyke that opportunities might be few and far between as the Swans signed Shane Mumford from Geelong and Mark Seaby from West Coast.
In 2010 Pyke was on the outer until Seaby went down early in Round 6 against the Lions. After 6 games his year was done. And the door opened for Pyke who charged in and played every game for the rest of the year including a key role in the Round 22 win over Brisbane to help ensure a finals spot (when Pyke rucked as #1 against Leuenberger with Mumford missing); as well as both finals. Pyke has acknowledged that at the time he'd felt that had Seaby not been injured then his time might have been up and he'd have to consider returning to Rugby.
As a mature age recruit Pyke was not typical, an international, a Canadian. And even then Pyke was not the typical Canadian – in that playing international Rugby Union is not the typical sporting path for a country that we perhaps think more of Ice Hockey. After 22 tests for Canada in a 4 year career that included coming up against the likes of the Wallabies and All-Blacks, and playing professional Rugby in France – Pyke, from the town of Victoria (British Columbia) was inspired to Australian Football by a mate who had moved to Melbourne. The Pyke story cost a whole lot less and came with a whole lot less fanfare than either of Karmichael Hunt or Israel Folau who were lured from the NRL as much for the publicity as anything. Pyke came to the Swans for a two week trial, and that the story didn't start and end there was clearly a tribute to the determination of Pyke and the attitude of the Swans to take the chance. Pyke also had played basketball – the combination of his size, Rugby and Basketball background and his athleticism made him a plumb fit for a rucking role especially given his athleticism. He was picked round 4 (57th pick) in the 2009 rookie draft and in 2010 was a rookie elevation at number 101. Another critic, player manager Ricky Nixon, suggested the Swans were wasting their time. 110 games and a premiership medallion later - it is a credit to Pyke that he makes his own call to bow out and with nothing short of respect from the AFL and broader football community.
The 2012 Premiership
After 2011 which had been an injury ruined season with only 2 games played, including ironically injuring himself in the Round 7 game against the Dogs when he had managed to kick multiple goals for the first time in his career – 2012 offered no assurances with again Mark Seaby still in the wings fighting to be understudy to Mumford who was clearly #1 ruck at Sydney. Seaby himself though only managed 7 games in 2011 and played 5 more in 2012 with his last game against Richmond in Round 7. The door hadn't been shut on the big Canadian yet. And so it turned out that the next week when Pyke returned that this time he was back for good - even if it wasn't entirely obvious at the time. Slotting into the role of the serviceable lieutenant to Mumford, Pyke was able to expand his game including a goal kicking highlight in round 21 (against the Dogs) when he managed to push forward for 3 goals for a career high match tally (he would equal this mark in 2013 v Geel).
Leading into the 2012 decider against Hawthorn there was some speculation about Shane Mumford and his hamstring. With Mumford and Pyke both selected, Pyke entered perhaps still just as a role player in support, perhaps still just a bit of a curiosity to many, and ironically with greater coverage back in Canada. As it played out – the Swans won a classic Grand Final by just 10 points over a slightly wasteful Hawthorn. Mumford was cooked by the third quarter and was to be handed the red vest - subbed out. With a Grand Final to be won - Pyke was the handed the keys and more than held firm for the Swans with several vital involvements in the last quarter. 16 disposals, 29 hit outs and 6 marks including a Swans game high 3 contested marks. His medallion was well earned.
For some internationals or 'exotic' recruits – the wrong place at the wrong time might apply. Landing at a successful club can limit opportunities. That Pyke who became an Australian citizen in 2014, in his 110 matches played in 13 finals including two Grand Finals speaks volumes for the success of his journey. Compared to the career tally of some other cross code players it can hardly be suggested that Pyke was granted token matches.