Johannisen Has Ambassadorial Qualities For South Africa
Saturday, July 11 2015 @ 12:08 am ACST
Contributed by: Wesley Hull
Views: 1,557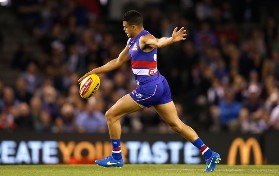 Western Bulldogs' rampaging rebounding half-back, Jason Johannisen, is just a nice guy. Pure and simple. You can tell by his smile when he approaches for an interview and his enthusiastic, positive responses to unrehearsed questions. In Cairns for this weekend's clash between the Western Bulldogs and the Gold Coast Suns, Johannisen was happy to give up a few minutes to talk about his own journey, and what he hopes will be a successful and challenging one into the future.
Born in Johannesburg, South Africa, he left his home nation when he was just eight years old when his family moved across the Indian Ocean to Perth. So, does he remember his early days back in South Africa? "No, not really," he says. But he does remember his early days in Perth, playing footy at school and with his local club and wanting to be an AFL player one day.
Johannisen is now 22 years old and came to the Bulldogs from East Fremantle in the 2011 Rookie Draft as a 19 year old dasher. "I really want to be a one club player [because] the Western Bulldogs took a chance on me and I want to repay that."
He already is, being part of a dashing half back line, working in tandem with club veteran, Bob Murphy, to continually rebound the ball out of defence to a hungry midfield, or deep into the forward 50.
But his future may well step back to his South African roots. He is not currently one of the AFL's Multicultural Ambassadors, but he says that "I am starting to do a bit of that, helping out at clinics and multicultural events." He is even very taken with the idea of becoming something of a figurehead for South African footy, helping to promote the game in the nation and being a role model for other young South Africans to follow. "Yeah, I would like that" he says.
Jason is not acutely aware that his success adds enormously to the international and multicultural flavour of Australian Rules football, circa 2015. But on reflection he understands that he has a role to play in the future direction of the game by being a successful player, and just a good bloke.
But for now his mind will be on repelling Gold Coast Suns attacks at Cazalys Stadium in Cairns. His Bulldogs are a serious finals chance now under first year coach, Luke Beveridge, and Jason, like the whole team, doesn't want to let that slip.
His dash and flair might just ensure success for the Bulldogs. They might also be useful qualities for being one damned good Multicultural Ambassador one day and changing the face of footy in South Africa, along with his smile and enthusiasm to chat.