Farewell to Footy Park
Friday, October 04 2013 @ 08:15 am ACST
Contributed by: Brett Northey
Views: 2,237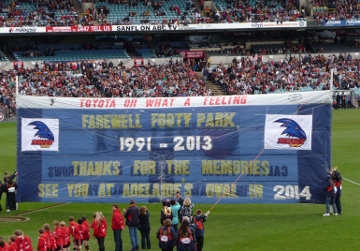 After 40 years it's time to farewell "Footy Park", home of the SANFL, Adelaide Crows and home ground for Port Adelaide Power.
Building the stadium at West Lakes in Adelaide's western suburbs was considered a bold move or by some, foolhardy. It was built on recovered marshland when tensions became too great between Aussie Rules (run in SA by the SANFL) and cricket (run by the SACA, headed by Sir Donald Bradman). Football wanted a home of its own and in 1974 controversially moved away from the ground on which it had been played since the 1870s or earlier.
The move proved to be a great success and the financial risk was rewarded, and little did the SANFL know in those pre-AFL days that it would provide a cornerstone on which to build two AFL clubs, the Adelaide Crows and Port Adelaide Power.
But over the last decade AFL fans have seen numerous significant upgrades to stadia around Australia (though Football Park, or AAMI Stadium as it is currently branded, has also had improvements). Perhaps most damaging of all to the Footy Park brand was Docklands (Etihad) Stadium in Melbourne - many footy fans have ventured across the border to experience what a modern roofed stadium in the CBD is like. Despite a Labor government plan to spend $100million upgrading the stadium and a possible expansion back up towards 60,000 (after various upgrades had reduced the capacity) there were growing calls to start afresh.
So with crowds falling, the Liberal Party opposition proposing a roofed stadium in the city, the state Labor government looking to neutralise the issue, and the SACA (cricket) in major debt over its new stand at Adelaide Oval, the perfect storm emerged that saw a return to an upgraded Adelaide Oval. Port Adelaide and Adelaide have now both farewelled Football Park (in terms of their final AFL matches there) and this weekend the 2013 SANFL Grand Final concludes official matches at the ground (although there have been suggestions it may still be used such as for NAB Cup).
The $500million+ redevelopment of Adelaide Oval has been controversial in itself. Some say it will reinvigorate Adelaide's CBD and river precinct, increase revenue to footy and cricket, and be a great venue for both sports. Others say it has cost a huge amount for little gain, destroyed the world famous heritage ground, does not address the lack of a full roof, has high stand roofs that will be breezy in summer but allow in too much rain and wind in winter, cause traffic gridlock in the city and likely to make it impossible for staff and families to get carparking at the nearby Women's and Children's Hospital. Even the new footbridge over the Torrens River to go with the oval has caused controversy.
But this Sunday the focus is on Football Park for the last time, as Nathan Bassett's Norwood aim to go back-to-back, this year challenged by Josh Francou's North Adelaide, in the 2013 SANFL Grand Final.
The highest sporting attendance at the stadium was 66,897 for the 1976 grand final in which Sturt defeated Port Adelaide Magpies, while singer Robbie Williams drew 80,000 in 2006. A crowd like that won't happen, but hopefully around 30,000 fans will turn out to say goodbye.
We'd love to hear from our readers their best or worst Football Park memories.