AFL9s set to launch
Thursday, October 13 2011 @ 07:35 am ACDT
Contributed by: Brett Northey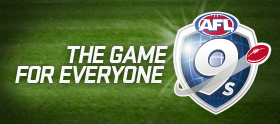 For many years a missing link in Australian football was a widespread non-contact form of the game played on smaller fields for smaller team numbers. Such a style of game was common at club training, and has slowly crept in overseas, but in the sport's homeland it remained a rarely exploited asset to the game.
That changed a few years ago when the AFL launched Recreational Football (Rec Footy) as an 8-a-side version using tags to effect tackles and aimed especially at beginners, mixed teams and social players.
This year it has been re-launched and re-badged as AFL 9s. The season is about to get underway so anyone in Australia who wants to keep playing footy over summer or dropped out due to injuries or time commitments, or anyone who always wanted to give the game a go but was afraid to try, this is your chance.
Why the enthusiasm? This author is one of many who has long wanted to see such a version of the game and has seen many potential players drift over to similar concepts like touch football (touch Rugby), so I'm very keen to see this initiative succeed. Having played a couple of seasons I thoroughly recommend it. Certainly the smaller softer ball takes some getting used to, as does the inability to make body contact, but it's a fun alternative for someone who has retired from the full version of the sport.
Visit www.afl9s.com.au for local contact details.