Game Day 5 - Jubilant Peace Team notch their first win of IC11
Sunday, August 21 2011 @ 07:27 am ACST
Contributed by: Tobietta Rhyman
Views: 1,775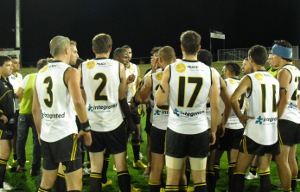 The final time slot at Blacktown on Saturday night saw China, fresh from a win over India, take on the improving Peace Team.

The match started fairly evenly, with both sides looking like they could make an impact. The Peace Team were bigger, but the Chinese Red Demons were pushing hard. It stayed that way until halfway through the first quarter when the Peace Team finally broke through and got the opening goal. From then on, it all seemed to go the Peace Team's way, except for a controversial behind, just before the siren, which seemed like a great goal for the Peace Team's Abualthon.

China came out fighting after the break, but the Peace Team looked more threatening and the ball ended up back inside the Chinese 50m. But the plucky Chinese refused to back down and despite their efforts, it took the Peace Team 13 minutes to add to their goal tally, after several forward thrusts resulted only in behinds. Finally the pressure paid off though, and they got another goal just before half time.
The Peace Team were again dominating the field in the 3rd quarter. No sooner was the ball cleared from the Red Demons' 50m than it was won back in midfield by the Peace Team and the Chinese faced a never ending onslaught. But the brave Red Demons' fighting spirit paid off and after two 25m penalties against the Peace Team, the Chinese broke through the wall-like midfield. This time it was the Peace Team's turn to feel the pressure, and with persistence, the Red Demons got their goal.

After the restart, an enthusiastic Red Demon slammed into a Peace Team player after a clean uncontested mark and a skirmish resulted. This was quickly quelled by the American umpire and the game was restarted. The Peace Team immediately got a chance to extend their lead, but it went through for a behind.
Quick on the counter, the Chinese moved quickly up the field with a brilliant display of handpassing around the opposition, showing they are improving even during the tournament. After breaking into the 50m a long kick towards goal fell short and ended up being rushed for a behind. The Chinese team definitely looked more aggressive after that, perhaps with renewed confidence, but mostly they were still forced to remain on the defensive.
At the 3/4 break the scoreboard showed the Peace Team had locked the game away but should have been further in front, with poor kicking their enemy, 6.15 (51) to 1.1 (7).

In the last quarter the Chinese came out pushing hard, but the Peace Team's long kicks upfield kept the pressure on. The Red Demons did eventually get the reprieve of a free kick, but this was heroically spoiled by the Peace Team, and the flying Abualthom got another goal. From the centre, the ball came straight back, and Abualthom got on the end of it for yet another Peace Team goal. Then another tough decision: on the kick out after a behind, the Chinese full back Hao was judged to have his foot outside the goal square, leading to a ball up right in front of the Chinese posts, resulting in another goal for the Peace Team. The Chinese fought on bravely, but just couldn't make it through the Peace Team's back line, whereas the side from Israel and Palestine was too effective at breaking through the Chinese defence with those long kicks in.

After the final siren went there was water flying everywhere, drums and dancing - the united side for Peace had scored their first victory of IC11. A few Peace Team players dashed up to the churned up centre square and dived through the mud, whilst the rest gathered round to sing the team song, carrying each other, arms over shoulders, united in victory. They didn't make it as far as the changing rooms, deciding instead on another round of drums, clapping, singing and dancing, joined of course by their jubilant supporters.

Final score: Peace Team 13.18 (96) defeated China 1.1 (7)

China
Goal Kickers: Gao Bo Ran
Best Players: Gao Bo Ran, Gao Yang, Jia Ming Pi, Zhao Liu Tao, Zhou Min, Hao Qui

Peace Team:
Goal Kickers: Romen, Tamimi, Ben David, Y Belik 2, Zaarir 2, Abualthom 3
Best Players: Ganon, Y Belik, Vromen, Zaarir, D Belik, Benvenisty