Game Day 4 - Battered AMI no match for Banshees
Thursday, August 18 2011 @ 11:25 pm ACST
Contributed by: Tobietta Rhyman
Views: 2,173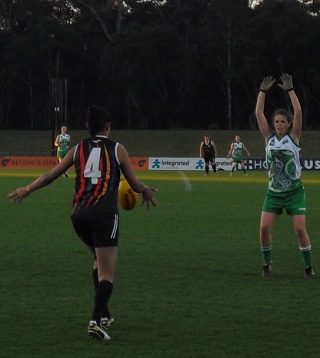 Ireland staked their claim at the top of Women's International Cup ladder alongside the United States after a crushing win over Australia's indigenous and multicultural team.
The Irish Banshees were looking confident coming onto the field today, the tournament's strongest team certain to win against the weakest. The Australian girls on the other hand were looking tired from their previous games, and already with a few players out with injuries, there were no spare girls for the bench today.

Right from the start it was Ireland, one way. The ball never left the AMI's half and it looked again as if it would be another game of constant defending from the inexperienced and under-prepared AMI team. By quarter time the Irish were already 6 goals up, the AMI team without so much as a behind to show for their efforts.
The AMI team put up a brief fight in the second quarter, somehow managing to keep the Banshees scoreless for 5 minutes. Finally after a rare mistake from the Irish, the AMI managed to finally break through the midfield line, and the underworked Irish back line seeming asleep, fumbled the ball right in front of the goals, but the AMI forwards were unable to send home their one chance, the ball slipping through for a behind.

After the half time break it was back to a Banshees one way street, the only exciting part of the game coming when the AMI full back messed up a free kick gifting the Irish full forward a 20m shot on goal from the boundary line. She kicked a whirling banana which looked certain to go for goal, but the angle just too tight, it clipped the post on the way through.

In the fourth quarter the onslaught continued, the Banshees putting another 6 goals through the sticks to take their total to 19, and with another few behinds for good measure, came off the oval with the highest score difference in the women's division so far: 126 points.
The blockbuster games would appear to be Ireland versus the US next week, with both teams currently undefeated.

Full time score: Irish Banshees 19.13 (127) defeated Australia IM 0.1 (1)

Ireland
Goal Kickers: Behan, Hazley, Loughlin, McKay, Shiels, N Ryan, Cotter 2, O'Hagan 2, Fitzsimons 2, Keating 7
Best Players: Keating, McKay, Ryan, O'Hagan, Fitzsimons, Hazley
Australia IM
Best Players: C Daylight, N Daylight, Paulic, Phillips, Briggs, Duffield