Full steam ahead for AFL Oceania
Thursday, October 30 2008 @ 12:59 pm ACDT
Contributed by: Brett Northey
Views: 7,232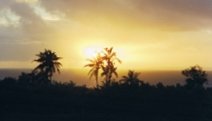 Andrew Cadzow has wasted no time in the new position of AFL Oceania Development Manager. His appointment started in late April 2008 after sustained success by himself and others with Papua New Guinea. In July he undertook a study tour of the region, meeting with people such as the Australian High Commission, local football committees, media outlets, Olympic committees and AVI (Volunteers abroad), and producing a report on the current situation and opportunities.
At the 2008 International Cup the region performed very well, with PNG finishing 1st, New Zealand 2nd, Nauru 5th, Samoa 10th, and Tonga appearing for the first time, playing in the adjunct Multicultural Challenge.
During the tournament officials from the Oceania nations took part in an Oceania meeting, in addition to the International Forum. Cadzow has released the Oceania Plan 2009 - 2011. It discusses a three to five year vision and continues on the theme of increasing participation, identifying and providing pathways for potential AFL talent, determining funding streams, and events and promotion. Further details follow.
Highlights included possible AFL Auskick Programs, Rookie Search / Talent ID Camps, International Scholarships, the possibility of AFL Academies – Localised and International, Inter-Oceania Tournaments, Flying Boomerangs Tour, website support, AFL Highlight Packages, access to touring AFL teams and high profile and experienced AFL personnel. Many other possibilities were noted.
These of course are just lists of opportunities to be explored, but it's likely a significant number will be enacted to some extent. The earlier detailed report on Current Position - Future Opportunities provided details for each country listing player participation, governance model, media, funding and facilities, as well as recommendations on the way forward.
The existing football countries were detailed as well as potential new ones. Fiji was described as having "Massive opportunity (to) introduce and grow the game", "Potential to establish AFL Academy based (at a local school)", and possibility that Fiji be a hub for "middle Oceania".
Early developments in Vanuatu were also noted (at senior level under AFL Recreational footy rules).
There remains a lot of work to be done, and many parts of Oceania will require sustained effort, with self-sustainment difficult to achieve, but it appears that of all the regions in the world, this looks to be one of the most promising in terms of being locked into relatively rapid growth over the next few years. Fingers crossed that similar focus can be brought to bear on some of the other exciting regions for international footy.