Formalising Asian footy - best way forward for an Asian AFL?
Sunday, June 17 2007 @ 05:34 pm ACST
Contributed by: Aaron Richard
Views: 4,546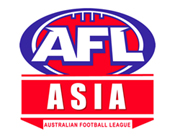 In the lead-up to this year's Asian Australian Football Championships in Bangkok there has been some talk about the formalisation of an official Asian AFL to complement the championships and create a structure for scheduling international matches and funding junior development. A proposal floated on the Hanoi Swans' blog suggests two divisions of five clubs each could play a home-and-away series each year, the divisions being north - Tokyo Goannas, Hong Kong, China (Shanghai), Vietnam (Hanoi) and the Philippines - and south - Bali, Jakarta, Singapore, Thailand and Malaysia. Each team would play the other four sides in their division once each year, with two matches at home and two away.
While WFN doesn't know how much this has been discussed by clubs so far, it looks like an interesting idea, particularly as there is mention in the plan of coordinating funding and sponsorship for clubs undertaking local and junior development. We'll post further news as it becomes available.