| | |
| --- | --- |
| | Japan's Samurai squad swept through the 2007 Arafura Games undefeated recently, taking out the tournament for the first time. The team has returned to the event every two years and has steadily improved each time. This year they took on the Northern Territory Crocs and the Northern Territory Buffalos. WFN spoke with both the Samurai's captain and team manager about their Down Under. |
The Arafura Games is a leading international sporting competition for emerging sports-people of the Asia Pacific region. Held every two years in Darwin, the capital of Australia's Northern Territory, the Arafura Games is billed as a meeting of "Sporting Neighbours" and attracts developing athletes from the Asia Pacific region and beyond.
Japan sent a young developmental side and many will be pushing for selection for the International Cup next year. Captain Hiroyuki Tohyama felt they got a lot of benefit from attending. "We had many young players playing this year. Mostly second year at Uni. I think it was a great experience for them, being able to play on a beautiful ground (TIO Stadium), and play more experienced players".
"The Samurais had a great series in the Arafura games 2007". It was good match practice for a team not accustomed to the larger ovals of Australia. "We did have some trouble with the large size ground and the hot weather. We felt as if the goal posts were kilos (kilometres) away from the midfield, where I play". Their last match was their closest. "By the fourth quarter, couple blokes were down on the ground with a leg cramp. The local players say that May is the dry season in Darwin but the Samurais were definitely not used to the weather".
According to Japan's team manager Jim Young, "We are absolutely overjoyed to go away with four wins in a row". With just minutes to go in the final game of a rigorous schedule the visitors trailed by three points before goaling to win 4.10 (34) to 4.6 (30) against the Northern Territory Crocs. This followed on from three earlier wins - over the Buffalos (by 27 and 23 points) and the Crocs (62 points). The NT sides comprised mostly Masters level (i.e. older) players, but many of whom have NTFL experience. Japan were awarded the Mark Pearce Memorial Trophy, in memory of local man Pearce who assisted the visitors back in 2005 and whose mother was Japanese.
Aussie Rules has a long history at the Games but only had the status of a demonstration sport. Organisers have been keen to see more international teams travel there in future to keep Australia's indigenous sport justifiable at the event. Jim Young says Japan will certainly support that push - "When we are at the International Cup we'll definitely push for more countries to attend in 2009. Australian Rules is a growing sport, and having more countries attend the Arafura Games is an excellent opportunity for international teams".
Final Scores:

Mon 14th May - Japan 6.12 (48) d. Buffalos 2.9( 21)
Tue 15th May - Japan 13.7 (85) d. NT Crocs 3.5 (23)
Thu 17th May - Japan 5.8 (38) d. Buffalos 2.3 (15)
Fri 18th May - Japan 4.10 (34) d. NT Crocs 4.6 (30)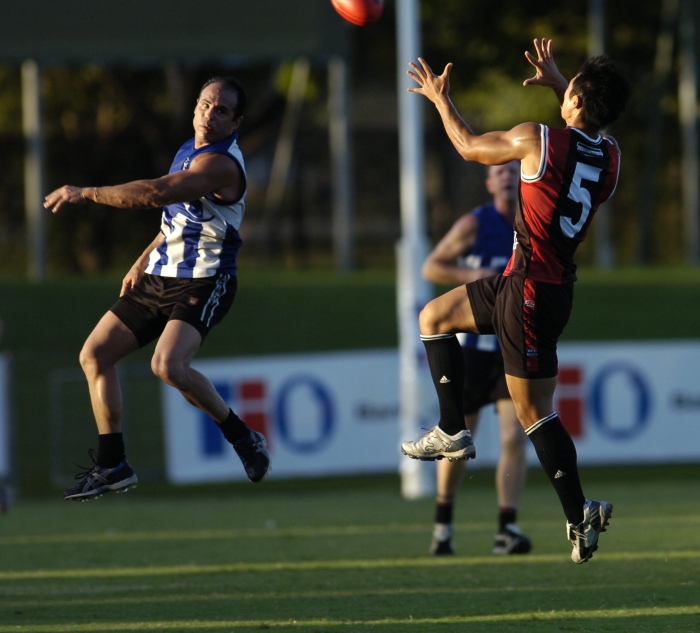 Photo: Justin Sanson, Northern Territory, Australia