Welcome to World Footy News
Thursday, March 04 2021 @ 10:22 am ACDT
Link to World Footy News - circa 2009
This page shows old World Footy News logos that were available around 2007 to 2009.

Older logos - Even older logos can be seen here.

Major banner circa 2008/09 - The major graphic across the top of the WFN website around 2008/09 featured the website name above the flags of the 17 countries that attended 2008 International Cup (16 teams and combined Israel-Palestine Peace Team). Of course there were many other countries developing the game, this was just a nod to those that featured in the game's premier international event at that time.




Assorted small logos are shown below. Some include the addition of the Southern Cross, the constellation often associated with Australia, the ancestral home of Aussie Rules football.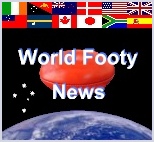 Last Updated: Wednesday, September 08 2010 @ 01:39 am ACST|Hits: 5,767