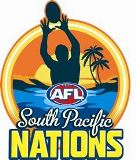 The 2015 AFL Under 15 Oceania Cup is tonight gearing up after the arrival of competing teams. Being again held in Fiji, the action gets underway tomorrow at Furnivale Park in Toorak (Suva). Once again the opening day is a lightning premiership format.
This years tournament sees 4 teams playing. Tonga, Fiji and Nauru have full squads while the 4th side is the Pacific All Stars. The tournament will wind up on Thursday with finals after lunch followed after presentations by an exhibition match between the Fiji U/14s and the U/14 Australian Wanderers.
The usual venue at Albert Park in Suva is under construction works which is why the alternate venue is being used.